Catwoman 'comes out as bisexual'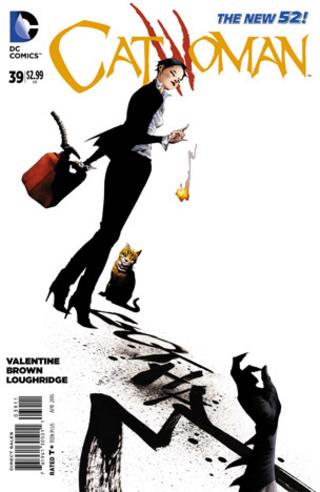 Catwoman alter-ego Selina Kyle has been revealed as bisexual in the latest issue of the character's comic book.
Catwoman has been romantically entwined with Batman since her first appearance 75 years ago. In the latest issue Kyle kisses a female character called Eiko.
Kyle, who has hung up her catsuit in recent issues, has "flirted around it - often quite literally - for years now", said writer Genevieve Valentine.
"For me, this wasn't a revelation so much as a confirmation," she blogged.
Catwoman first appeared in print in 1940, and has been played on the big screen by actresses including Michelle Pfeiffer, Halle Berry and Anne Hathaway.
During her long and complicated history with Batman, the pair have been both allies and enemies at times, as well as having an on-off romance.
"I don't want to spoil what can't yet be spoiled, please be assured that Selina's longstanding connection to Batman has not been forgotten; that is not how bisexuality (or humanity) works," Valentine wrote.
"Selina doesn't care easily, but when she does care it strikes deep, and there will be plenty of that coming up."
The latest development has been broadly welcomed by fans on Twitter:
The storyline comes eight years after Batwoman was reintroduced as a lesbian character.
In 2012, the Green Lantern was reinvented as gay, while Marvel's Northstar, a member of the X-Men, married his partner in 2012.