Dakota Johnson IS skit causes furore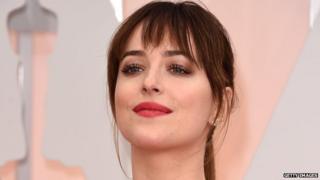 A spoof advert for IS starring Fifty Shades of Grey actress Dakota Johnson has caused a furore on Twitter.
Johnson plays a girl saying goodbye to her father in the skit, which appeared on US TV show Saturday Night Live.
She appears to be leaving for college, but it transpires she is actually joining the Islamic terrorist group.
"It's just Isis, dad," she says. One Twitter user wrote: "I found NOTHING funny about that ISIS #SNL skit. Sorry but no laughing matter. Ever."
Later in the sketch, Taran Killam, who plays the father, tells the IS recruiter to "take good care" of his daughter, to which the IS member replies: "Death to America."
The skit ran shortly after the news broke that three British schoolgirls had run away from home to join the terrorist organisation.
On Twitter, another user, Mike Smith, wrote: "Make sure you send a copy to the families of the people murdered... See if they think it's funny. SNL went to far for a laugh."
But some users were more supportive. Pam Bell wrote: "Seems this may have been controversial, but SNL does this better than anyone, & if we don't laugh, they win."
Johnson, who can currently be seen in the film adaptation of erotic best-seller Fifty Shades of Grey, also hosted this week's Saturday Night Live. Her parents, actors Don Johnson and Melanie Griffiths, were in the audience.
She joked with them that she was conceived during SNL when her mother hosted the show in 1988. Asking if she had embarrassed them, her father replied: "We were just afraid you were going to be naked."