Second Best Exotic Marigold Hotel tops UK box office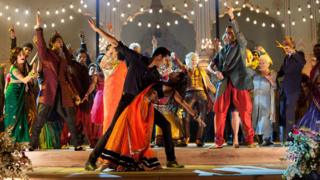 The sequel to hit 2012 comedy The Best Exotic Marigold Hotel has topped the UK and Irish box office chart in its first weekend, according to Screen Daily.
The Second Best Exotic Marigold Hotel made £3.74m in its first four days, knocking last week's top film, Fifty Shades of Grey, down to second place.
The latter made £2.24m on its third weekend, taking its total earnings in the UK and Ireland to more than £30m.
Will Smith's heist caper Focus is ranked at three with a £1.9m debut.
Disney's Big Hero 6, the winner of this year's best animated feature Oscar, has dropped to fourth place, having taken £1.2m on its fifth weekend in UK and Irish cinemas.
Fifth place is filled by Shaun the Sheep, whose first big-screen outing made £1m between Friday and Sunday to take its total UK and Ireland tally to £11.6m.
The Second Best Exotic Marigold Hotel sees Dame Judi Dench and Dame Maggie Smith return as British pensioners living out their retirement years in the Indian city of Jaipur.
Its predecessor made more than £88.5m ($136m) at the international box office - more than £20m of which came from the UK and Ireland.