Rebecca Ferguson: How a 'year of loss' inspired her Billie Holiday album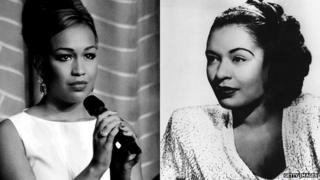 Rebecca Ferguson planned to celebrate the centenary of Billie Holiday's birth by re-interpreting some of her biggest songs. But the project took on personal significance after the singer had a "year of loss and sadness".
Billie Holiday had one of the most distinctive voices of all time.
Her intensely personal style, on songs like Strange Fruit, Lover Man and Don't Explain, inspired everyone from Janis Joplin to Joni Mitchell.
One of the first singers to employ the subtleties of jazz phrasing in a serious manner, she danced around the beat and the melody, often adding harmonies inspired by her favourite horn players Louis Armstrong and Lester Young.
But she is also remembered for her turbulent personal life - born to teenage parents who couldn't cope, jailed for prostitution in her own teenage years, and dying, aged 44, while under arrest in her hospital bed for possession of narcotics.
Dozens of events are planned to celebrate the centenary of her birth this year. Among those paying tribute is Rebecca Ferguson, whose third album is a collection of Billie Holiday covers.
It was recorded after a turbulent year, which began with the pop star collapsing on live television. She later found out she was pregnant - at which point the father of her unborn child walked away.
All the pain was channelled into recording Lady Sings the Blues, which she made at the iconic Capitol Studios in Hollywood.
She tells the BBC that revisiting Holiday's back catalogue taught her discipline and humility.
How much of Billie Holiday's story did you know before you made this record?
Actually, I'd done a project on her at college. I remember sitting in the library having to read through book after book. And I had to get her death certificate and other pieces of information. A lot of her life frustrated me and upset me, to be honest.
In what way?
I remember looking at a picture and seeing all these terrible men round her, and I was thinking, "What are you doing? How do you not know you're Billie Holiday?"
But this project has made me delve into her story even more - and I've come out respecting her as a woman. I've listened to her interviews and she was actually really strong.
As well as having addictions and making a lot of bad decisions, she was a fighter. She got up on that stage and she'd sing, no matter what.
She encountered a lot of prejudice in her early days.
She was the only black person in those clubs sometimes. The band would all be able to have drinks at the bar, and she'd just be hiding at the back.
That's so sad because, as a singer, you already feel vulnerable. But she was a tough cookie.
When Bob Dylan released his album of Frank Sinatra standards last month, he said he had to ignore the originals to be able to inhabit the songs himself. Do you agree?
Absolutely - you can't think about the originals. I said to them, "Play me it twice and that's it." I had to go in and interpret it in my own way. If you over-listen to the song, you'll just sound like a silly mimic.
But some of her lyrics were quite dark. In My Man, she sings: "I love him. I don't know why I should. He isn't good, he isn't true. He beats me, too."
But what I loved with Billie Holiday is she had a good way of parlaying the sorrow with a positive musical twist.
What did you learn about yourself as a performer?
Discipline. Discipline.
Working with people who played with Frank Sinatra, Sammy Davis Jr, Tony Bennett… Some of them are 80 years of age and they just knew what they were doing.
The producer would have a suggestion and they'd go into the studio and do it without having to practice. It made me want to step up my game.
Was it a quick album to record? I imagine the arrangements were done and you came in and put your vocals on top.
No, it's hard work. It's harder than writing your own music, because they're classics and you're conscious of the fact that you've got to draw out your own emotional connection to the song.
And was the arrangement written to support your vocal?
The band had to play around me, but I was lucky in that respect. The musicians were that good that I didn't have anything to argue about. They'd sit and play and then they'd ask me, "What did you think of that, Bex?" And I'd always go, "It sounds amazing."
One of them actually said to me, "You're a cool cat, Rebecca, you're really chilled." But that's been their field of work for 50 years. I'm not going to come in and tell them to do it differently.
How intimidating was it to sing in front of those people?
I was just sitting there like a big kid! I kept trying to get stories out of them all.
One told me a story about Sammy Davis Jr and a time all the lights went off while he was performing. They had just one spotlight and he had to entertain the audience for an hour - and all he did was tap dance.
How's your tap dancing?
Oh, me tap dancing's terrible! I'd just walk off. I'd be like, "Send them all home!"
What's the biggest disaster you've ever had on stage?
My first ever date on my first tour, the sound completely cut out. So I had to go on and just shout loudly to the audience.
Around this time last year, you passed out while performing on Loose Women. That must have been pretty awful, too.
That was the pregnancy. I didn't know [I was pregnant] at the time - and that was what made me go and get a test. My body was doing all kinds of crazy things.
I had quite a hard pregnancy. I was vomiting constantly, it was very draining. Luckily she [third child Arabella] is absolutely fabulous and worth it all.
You've said quite openly that 2014 was "a year of loss, a year of sadness and drama". Did that all feed into the recording?
It definitely did. Certain songs, like Embraceable You, I sung that to my baby. It was a very bad year.
I think at one point when I'm older I might open up a bit more about that, but out of respect for my daughter and my children I don't want to talk about it. But it was very hard.
You recorded the album during your pregnancy. Did that change your voice at all?
Do you know what? I found I sang better. It makes no sense because it's supposed to affect it. But I found all the hormones relax me. I felt like when I sang it flowed better.
You certainly look relaxed in the "making of" video - as if taking on these Billie Holiday songs is a walk in the park.
I didn't know they were going to use that footage! I was rocking up, pregnant belly, sandwich in one hand - "Come on then, let's have it."
Is that your secret? Always turn up to a session with a sandwich?
No, no, no! Oh god, I'm really portraying myself as a big, greasy woman! I'm not. I have smoothies and organic food.
Rebecca Ferguson's album, Lady Sings the Blues, is released on 9 March.