Armani labels Madonna 'difficult' after Brits fall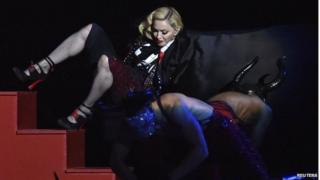 Fashion designer Giorgio Armani has played down his part in Madonna's on-stage fall at this year's Brit Awards.
The pop star tumbled down a flight of steps during her performance last week when a dancer tried to pull away her Armani-designed matador cape.
She said the garment, which was supposed to fall off her shoulders, had been fastened too tightly.
Armani responded: "The cape had a hook and she wanted a tie, and she wasn't able to open it with her hands.
"That's all there is to it. Madonna, as we all know, is very difficult."
The 80-year-old was talking to the Associated Press following his show at Milan Fashion week.
Madonna's wardrobe malfunction went viral minutes immediately after it was broadcast live on ITV1.
She later told chat show host Jonathan Ross she had suffered "a little bit of whiplash" after the fall.
The 56-year-old said her cape had been tied "really tight around my neck" because "everyone was worried" it would slide off.
"I got to the top of the stairs and I pulled the silky string, and it wouldn't come undone," she continued.
"I had two choices: I could either be strangled or fall, and I chose to fall.
"I smacked the back of my head. And I had a man standing over me with a flashlight until about 3am to make sure I was compos mentis."
She added: "I know how to fall, I have fallen off my horse many times."
Following the incident, the star's stylist, B Akerlund, posted a picture of herself lying on the floor covered in smashed cupcakes.
It is not known whether the Swedish-born stylist, who has worked with Madonna for nine years, tied the cape herself, though she came in for abuse from fans nonetheless.
"Please improve your work, she [Madonna] is a QUEEN don't deserve this," said one.