Comedy titles win Blue Peter Book Awards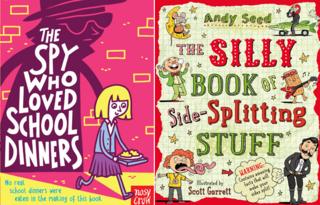 Humourous children's books The Spy Who Loved School Dinners and The Silly Book of Side-Splitting Stuff have won the 2015 Blue Peter Book Awards.
More than 200 pupils from 10 schools voted, with the winners revealed on a special edition of CBBC's Newsround.
Pamela Butchart's The Spy Who Loved School Dinners, illustrated by Thomas Flintham, was named best story.
Andy Seed's The Silly Book of Side-Splitting Stuff, illustrated by Scott Garrett, won best book with facts.
The UK's Children's Laureate Malorie Blackman will appear on a special edition of CBBC's Blue Peter later today to present the programme's awards to the winning authors and illustrators.
Children around the UK have gone to school dressed as their favourite fictional characters as part of World Book Day, a celebration of books and reading designated by UNESCO which is marked in more than 100 countries.
The shortlist for the Blue Peter Prize was selected by a panel of judges including Tom Gates, author Liz Pichon and Rastamouse creator Michael de Souza.
Winning story The Spy Who Loved School Dinners is about Mathilde, a new girl in school whose love for school dinners can only mean one thing - she is a spy.
Author Butchart said she was "shocked and utterly over-the-moon" about the accolade.
"Wow! Is this real-life?! It means the world to me that children voted for my book! Thank you."
Illustrator Flintham added: "It was exciting enough just to be nominated but to have won has forced me to do a little dance!"
The Silly Book of Side-Splitting Stuff explains what kind of animal an aye-aye is and how much gravy the boot of a Mini Cooper Convertible can hold, amongst other weird and wonderful facts.
Seed, the book's author, said it was a "proper thrill" and "spine tingling" to win a Blue Peter Book Award after growing up watching the show, and praised the programme for "raising the profile of books and reading at a time when this is needed more than ever."
Garrett added: "I can't wait to get my badge! Illustrators don't get inundated with awards, so I'm over the moon to have been awarded this one. Here's to books!"
Laureate Blackman has also launched a new online book festival for teenagers this year, called Teen Fest.
The website hosts podcasts and career advice for budding writers, while authors including Rainbow Rowell, Marcus Sedgwick and Holly Smale have been chatting to readers on social media.
Libraries 'under pressure'
Organisers have also announced the winner of the inaugural World Book Day Award, funded by bestselling American author James Paterson, who donated £50,000 of his own money to the prize.
Hexthorpe Primary School in Doncaster will receive £10,000 of books for its library, with a second prize winner, three runners-up and two highly commended schools sharing a further £15,000 to buy books for their libraries.
Primary and secondary schools across the UK had to respond to the statement "Why we can't live without books" to win the prize.
Hexthorpe Primary School teacher Philip Sheppard helped his Year 5 class submit the winning entry, a stop motion animation featuring a host of children's books and book characters set to an original soundtrack sung by the class.
Sheppard described the award as "life-affirming", adding: "School libraries are under such pressure.
"There is not a school in the country that couldn't use this money many times over. Our children love reading so much that copies of favourites such as Diary of a Wimpy Kid and the Roald Dahl books are constantly falling apart.
"In a deprived yet culturally rich and ethnically diverse area like this, books are a unifying force," Sheppard added.
Patterson, who wrote the Alex Cross and Women's Murder Club series, said he had donated the money to "encourage a love of reading in our children that we can't afford to lose.
"Reading is one of the building blocks of life and can take you to another world. Reading encourages imagination and helps with education," he continued.
The prize money must be spent by the winning schools in local bookshops. Gomeldon Primary School in Wiltshire, Osborne School in Winchester, Bourne Westfield Primary Academy in Wycombe and Queen Elizabeth's Grammar School in Derbyshire were this year's other winners.
As part of World Book Day, every school child is entitled to receive a £1 book token to spend on a specially published book.
This year's selection includes The Dinosaur that Pooped A Lot!; Goth Girl and the Pirate Queen; Michael Morpurgo's Best Mates; and Geek Girl: Geek Drama by Holly Smale.