Sean Penn: 'No apologies' for green card joke at Oscars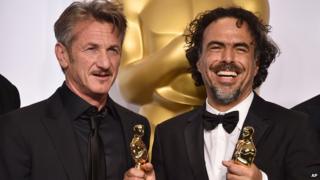 Sean Penn has said he has "absolutely no apologies" to make over his controversial green card Oscars quip.
Before announcing the best picture winner at last month's Academy Awards, the actor joked: "Who gave this son of a bitch his green card?"
Penn was referring to Birdman's Mexican director, Alejandro Gonzalez Inarritu.
Inarritu, a long-time friend of the actor who directed him in 21 Grams, said he found it "hilarious". But some pundits were less impressed.
Entertainment Weekly's Nina Terrero tweeted she would never see a Penn film again, saying she was "shocked, angry [and] upset" at his "disgusting" comment.
'So stupid'
The Washington Post's Elahe Izadi accused Penn of insensitivity: "Hey congrats on winning the award of your life here's a green card joke to announce it."
"Green card" refers to the document that gives immigrants permanent residency in the US.
"I'm always surprised by flagrant stupidity. I keep having more hope,'' said Penn on Saturday in Los Angeles during a promotional tour for his new film The Gunman.
"I have absolutely no apologies. In fact, I have a big [expletive] you for anybody who is so stupid not to have gotten the irony when you've got a country that is so xenophobic.
"If they had their way, you wouldn't have great film-makers like Alejandro working in this country. Thank God we do."
The 54-year-old went on to explain that his comment had been intentional.
"There's a little inside humour with he and I where I know, and wanted to know, that he would be the first person in that room to know that his film won," he said.
Speaking backstage after the 22 February ceremony, Inarritu said he and Penn have "that kind of brutal relationship where only true friendship can survive".