Global praise and condemnation for 'Big Monkey' Clarkson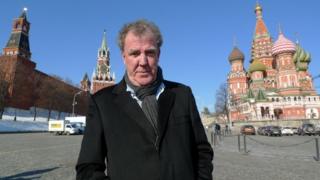 The BBC's decision to suspend Top Gear presenter Jeremy Clarkson over a "fracas" with a producer on the popular motoring magazine programme has caused controversy outside the United Kingdom as well as at home.
Newspapers in Argentina, the country recently angered by a 2014 Top Gear film, seemed quietly pleased with the news; while around the world, viewers in countries where the programme is aired have taken to social media to both condemn and praise the Corporation for its decision.
While the majority of the social media deluge has been from UK viewers, analysis using the Crimson Hexagon tool shows substantial numbers of comments from countries as diverse as the United States, Russia, India, Indonesia and Kenya.
Argentina: Muted celebration
Reaction to Clarkson's suspension has been muted but reports have verged on schadenfreude, paying special attention to the controversy surrounding the "Falklands" number plate in 2014's Patagonia Special edition of the programme.
Typical was Radio Nacional who said Clarkson was "famous for his xenophobic, racist behaviour", while Diario Jornada called him "the presenter who satirized the Malvinas".
The Falklands number plate still rankles with Argentine media, and it's this angle that Telam uses to demonise Clarkson: "During filming in Patagonia, the same presenter used a car with the licence plate H982 FKL, in an obvious and provocative reference to the 1982 Malvinas war."
In a straw poll of readers, Todo Noticias said that 55% of its readers "liked" the fact that Clarkson had been suspended, 21% "weren't bothered".
Russia: Radioactive bears
In Russia, where the programme has been shown on federal channels for some years, the programme has been gradually losing popularity among viewers. However, dedicated fans took to Twitter to criticise the BBC:
Typical was Fyodor Samsonov who hoped the Corporation would "change their mind and return the old guy to air. Captain Snail (James May) and (Richard) Hammond shouldn't be broken up."
Anton Deshevykh tweeted a direct - although tongue-in-cheek - threat: "Return @JeremyClarkson to air or I will complain to Putin and he will set radioactive bears on the BBC."
As in the UK, there were those glad to see the back of him. "I have been waiting for this news for 10 years," user Aleksandr V tweeted.
India: Racist taunts
Indian newspaper The Hindu carried an article asking why the Corporation had not acted against Clarkson for using "racist taunts against Indians" and "ugly terms for people of African descent and for Southeast Asians" The paper took particular exception to one part of the series' India Special, where a long-running Top Gear gag revealed obscenities on a banner on the side of a train.
Indian Twitter users were split on Clarkson's suspension. Though he got the reason for the suspension wrong, Gautam Singhania congratulated the Corporation for acting. "He should have been sacked when he did the insensitive India episode."
Others thought that the programme would not survive without its lead presenter. "Top Gear without Jeremy is like a car without engine", one wrote.
Another speculated that co-presenters Richard Hammond and James May would also leave the show.
China: Big monkey
Top Gear is extremely popular in China, and Jeremy Clarkson is well-liked by viewers. Many netizens affectionately refer to him as "Da Houhou" (literally, "big monkey"). However, the UK programme's popularity has seemingly declined since since China started running its own immensely popular version of Top Gear in November 2014, so media reaction was somewhat muted.
Chinese media didn't mention the incident at all; and the majority of comments on Sina and Tencent Weibo are from overseas Chinese, or users who have read overseas English language media.
Those who found time to comment thought that Top Gear would not be worth watching without him, and that as a cat with nine lives, he would probably return soon.
Among social media posts from China were:
Benny_Illrocks from Guangzhou: "Finally the day has come when they're unable to retain this base-mouthed guy"
AceRepublic of Beijing: "Without Jeremy Clarkson, what's the point in watching?"
Goodbye Watermelon Head of Henan: "Hell, What am I supposed to do now after I finish work?
Nnevermindd of Beijing: "Clarkson...is the big monkey after a break?"
Iran: The old man
Top Gear, shown on BBC Persian as "Takht-e Gaz", is popular among Iranians, and Clarkson's suspension has led to calls for the presenter whom his Iranian followers call the "old man", to come back.
"The truth is that I only watch Takht-e Gaz for Jeremy Clarkson. I don't really care about the cars, I forget their names soon after the show," says @dutyMessIR.
Twitter user @saeedeh2012 said: "Jeremy Clarkson has only shouted at his producer and he has been suspended? The way they say they have suspended him it's as if he has joined IS."
"To be honest I never liked Jeremy Clarkson. He had some sort of attitude, which was too much for me" @JanMamadJunior, said of the affair.
The best word cloud... ...in the world
A word cloud based on a selection of 10,000 tweets on the issue featured several different languages, highlighting the global appeal of Top Gear.
Generated by the Crimson Hexagon analysis tool, the cloud also showed "fracas", the term used by the BBC to describe the incident that led to Clarkson's suspension, to be among the most used words on social media.
BBC Monitoring reports and analyses news from TV, radio, web and print media around the world. You can follow BBC Monitoring on Twitter and Facebook.