Thicke and Williams to appeal Blurred Lines verdict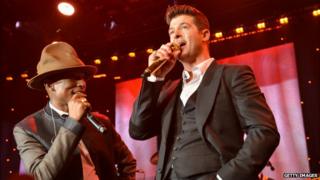 Pharrell Williams and Robin Thicke are to appeal the verdict which ruled that they copied a Marvin Gaye track.
Earlier this week, jurors in Los Angeles decided that parts of Gaye's 1977 hit Got To Give It Up were lifted for the duo's 2013 hit Blurred Lines.
The family of the late soul singer were awarded $7.3m (£4.8m) in damages.
But the musicians' lawyer said they remained adamant Blurred Lines was original, created solely by them.
"We owe it to songwriters around the world to make sure this verdict doesn't stand," Howard King told Fox Business News.
"My clients know that they wrote the song Blurred Lines from their hearts and souls and no other source.
"We are going to exercise every post-trial remedy we have to make sure this verdict does not stand."
Mr King added that expert evidence in the case, which may have swayed the jury, should have been inadmissible.
In particular, said Mr King, the testimony from a musicologist that compared Blurred Lines with Got To Give It Up was based on elements of Gaye's song that were not on the original sheet music.
At the time of its copyright, only the written music could be registered as protected, not sound recordings.
"Clearly the jury relied on what that expert said in reaching their conclusion," said Mr King.
Gaye died in April 1984, leaving his children the copyright to his music. His children - Nona, Frankie and Marvin Gaye III - sued Thicke and Williams in 2013.
After Tuesday's ruling - which saw the US singers ordered to pay $7.4 million (£4.8m) to Gaye's family - the family's lawyer told Rolling Stone he wanted to stop the sales of Blurred Lines. The 2013 track is one of the biggest-selling hits to date.
"Right now, I feel free," Nona Gaye told reporters after the ruling. "Free from... Pharrell Williams and Robin Thicke's chains and what they tried to keep on us and the lies that were told."
In court, Williams told jurors that Gaye's music was part of the soundtrack of his youth but he insisted it was not on his mind when he wrote the song.
But the musician recognised a likeness between the songs and agreed he was "channelling... that late-70s feeling" when he co-wrote the song.
The hit, which earned a Grammy nomination, generated more than $16m (£10.8m) in profits and made more than $5m (£3m) for both stars.