BBC unveils 'assault course' gameshow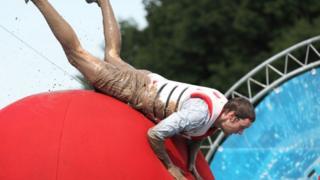 BBC One is to launch a new Saturday night game show in which contestants negotiate a giant assault course in a battle to grab prizes.
Can't Touch This, described as a "big, funny, physical action game show with a very simple premise", will have 10 episodes for its first run.
However, it's too early say who will host the show, which is most likely to air in 2016, a spokesperson said.
It is among 10 new BBC commissions which will be filmed outside London.
Alan Tyler, commissioning editor, BBC entertainment, said: "Can't Touch This takes all the fun of a large scale physical gameshow but gives it a new twist.
"Completing the course is not enough - you also have to find a way to touch the prizes that pass overhead as you go. Touch it you win it. The show combines both humour and competition in a format that feels like it moves this type of programme on in an innovative way."
Can't Touch This will be produced in Northern Ireland by Stellify, the independent company recently hired to remake Blind Date for Irish broadcaster TV3.
Previous TV game shows with assault course formats have included BBC One's Total Wipeout and It's A Knockout, which ran from 1966 to 1988.
Other entertainment shows announced include new formats as well as current series.
Magic show Now You See It has been re-commissioned.
National Lottery vehicle Win Your Wish List, hosted by Shane Richie, will also return for a second series in 2016.
In It To Win It, another show built around Saturday's National Lottery draws, will return for an 18th series.
And the same good fortune goes for Nick Knowles' Lottery show Who Dares Wins, returning for another eight episodes including a Eurovision special where former participants will battle it out to avoid the dreaded "nul points".
A further series of panel show Only Connect has been commissioned for BBC Two following the success of its first run on the channel.
Meanwhile BBC Four has lined- up The Hive. The 13-show series is described in a statement as "a smart, play-along quiz where the answer to every question is literally staring contestants in the face".