Sir Terry Pratchett: Tributes paid to Discworld author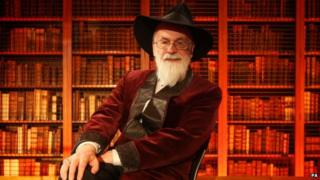 Authors and Alzheimer's campaigners have been among those paying tribute to author Sir Terry Pratchett, who has died at the age of 66.
Novelist Philip Pullman said he would be remembered for the "love of humanity in what he did", while actor Sir Tony Robinson called him a "contradiction" - a shy man in "urban cowboy clothes".
He suffered from Alzheimer's, and a charity said he opened the "floodgates" to help people talk about the disease.
Sir Terry's last tweet said: "The end."
His daughter Rhianna tweeted: "Miss you already."
Sir Terry died on Thursday, eight years after being diagnosed with a rare form of early onset Alzheimer's called posterior cortical atrophy.
He campaigned in favour of assisted suicide after his diagnosis, but his publishers said he did not take his own life.
'Watershed moment'
Charlie Russell, who made several documentaries about Sir Terry, including one on assisted suicide called Choosing to Die, said he was a "lovely man".
"He was very kind to me to take me into his home and take me into this heart," he said.
"It was such a pleasure to get to know him."
Hilary Evans, director of Alzheimer's Research UK, said Sir Terry's death would have "a profound effect on both literature and the 850,000 people who live with dementia" in the UK.
She said his announcement of his illness was "a watershed moment" and "a call to arms for society to talk about dementia and take steps towards defeating it".
Sir Terry's publisher, Larry Finlay, said: "Terry faced his Alzheimer's disease (an 'embuggerance', as he called it) publicly and bravely.
"Over the last few years, it was his writing that sustained him. His legacy will endure for decades to come."
Writer Neil Gaiman said: "There was nobody like him.
"I was fortunate to have written a book with him, when we were younger, which taught me so much. I'll miss you, Terry."
Philip Pullman said there was "nothing spiteful, nothing bitter or sarcastic in his humour".
'Brave campaigner'
Sir Terry was best known for the Discworld series of novels, which began in 1983 and contains more than 40 books.
Speaking on BBC Breakfast, crime author Val McDermid praised Sir Terry's writing saying: "I love the irreverence and the creativeness of it
"Nothing was beyond his powers of imaginations, he made you look at the world around you differently," she continued.
McDermid also credited Sir Terry with introducing the idea of humour into fantasy writing: "He looked at the world differently from other fantasy writers. When he started there was no humour or women in fantasy but but he gave us a whole array of women. He painted this wide canvas of all sorts of people."
Prime Minister David Cameron said Sir Terry "fired the imagination of millions", while Deputy Prime Minister Nick Clegg called him a "fabulous" writer and a "brave campaigner for dementia awareness".
Sir Tony Robinson told BBC News: "Everybody who reads his work would agree his finest creation was his character Death.
"Any fans of his will know Terry in some way has shaken hands with one of his greatest creations."
And the final posts on Sir Terry's Twitter account, posted by his assistant after his death, followed that theme.
They read: "AT LAST, SIR TERRY, WE MUST WALK TOGETHER.
"Terry took Death's arm and followed him through the doors and on to the black desert under the endless night.
"The End."