Clare Balding chat show heads to BBC Two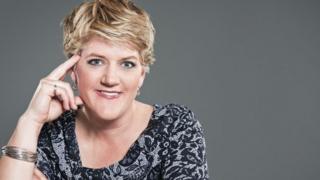 The BBC has bought the rights to show Clare Balding's BT Sport chat show on BBC Two.
From next month, an edited version of The Clare Balding Show will be shown on the channel the day after it is broadcast on BT Sport 1.
The pay-TV channel has shown the sport and entertainment show, featuring such guests as Usain Bolt and Jose Mourinho, since its launch in August 2013.
It is the first time the BBC has bought a complete format from BT Sport.
The two channels already share coverage rights for the FA Cup.
The hour-long show is filmed before a live audience, who get the opportunity to put their questions to Balding's guests.
A half-hour edited version will be shown on BBC Two.
'Unprecedented deal'
Balding said: "I'm delighted that The Clare Balding Show will now reach a brand new audience via the BBC following this unprecedented deal.
"This series provides a rare opportunity for sportsmen and women to reveal their true personalities, away from the pressure of competition."
Kim Shillinglaw, controller of BBC Two, said: "I'm delighted that her lively discussion programme, with some of the brightest and best sports personalities, is coming to the channel."
Balding is one of a number of broadcasters who work for both the BBC and BT Sport.
Ian Wright, Robbie Savage, Matt Dawson and Darren Fletcher also have roles on both channels.