Adam Levine hits Maroon 5 fan on the head with microphone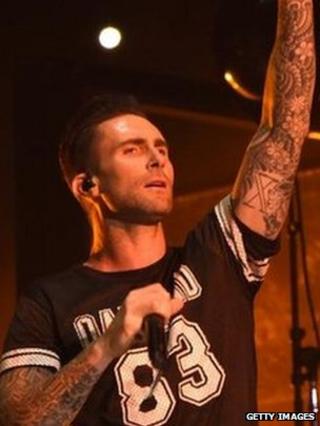 A Maroon 5 fan was hit on the head by a microphone thrown by lead singer Adam Levine at a concert in Toronto.
But Stephanie Green told a local newspaper it was her "dream come true".
Green was bruised but unharmed when Levine, frustrated by a broken PA system, hurled his mic into the audience, accidentally hitting her.
The frontman immediately apologised to Green, bringing her up on stage and hugging her. "It's just literally the best day," she told CityNews.
Green and her sister had secured top-of-the-range front row seats for Monday night's concert at the Air Canada Centre in Toronto.
But a brief power outage saw Maroon 5's Levine lose his cool as he paced up and down the stage, repeatedly testing the mic for a response before throwing it down in fury causing it to bounce and fly off in Green's direction.
"In my flustered state, I might have thrown my microphone on the ground and then it might have bounced off of the ground, into poor, sweet Stephanie's face," Levine told the audience, after rushing to Green's side.
"I felt so utterly terribly that I had perhaps wounded this young fan," added the singer, who is a coach on the US version of The Voice.
'Freaking out'
He offered Green a ring-side seat for the remainder of the concert.
Green said he apologised repeatedly for the incident.
"He keeps apologising," Green told CityNews as she watched a replay of the incident. "[I said] 'I love you, I'm happy, I'm OK!'"
"I was on stage, back and forth, freaking out," the excited fan added.
"[Levine] hugged me… grabbed my face, held my hands! I never thought in a million years this would happen to me."
Maroon 5 are best known for their 2011 hit Moves Like Jagger, officially the 38th biggest-selling single in UK chart history.
The US pop band released their fifth album, V, last September.