Game of Thrones star looks towards the series' end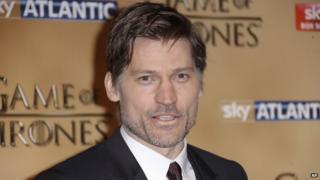 As the fifth series of Game of Thrones launches at a glitzy London premiere, one of its stars, Nikolaj Coster-Waldau, talks about the show's global success and prospects for its future.
It's not just winter that's coming in Game of Thrones. According to one of its leading characters, Jaime Lannister, played by Nikolaj Coster-Waldau, the end is also approaching for the fantasy TV show.
"It's definitely in sight in Series five," says the Danish actor, whose recent hits include Tom Cruise sci-fi adventure Oblivion, and whose latest film, police thriller A Second Chance, is released this week.
"Many of the main characters and storylines that we've seen down the show are converging now, and that means it's highly exciting but a bit sad too, because the end really is coming at some point, and we're all aware of that as a cast."
The world premiere of Game of Thrones, series five, was held on Wednesday night at the Tower of London - a lavish event designed to highlight how popular the show has become worldwide. The closing episode of the last series in the US drew an audience of 7.1 million, a record for cable channel HBO.
"I have no idea why it's so popular," confesses Coster-Waldau, who has been in the show since its inception in 2011. "I'm so grateful for it, but at this point we're not afraid of it petering out and losing the audience.
"Classic series like Breaking Bad and The Sopranos hit their high points in the fifth series, and I believe the same thing will happen to Thrones.
"It's only going to get better because it will have a definite ending. It's called Game of Thrones, after all, in the end someone will have to win it, and I think fans know that. Perhaps that's why they keep watching.
"It's the kind of TV series that, if you just give it a chance, you get totally gripped. It's great strength is that you're often shouting at the TV screen, going 'I can't believe you've just killed them off!'
"No character is safe. A lot of my friends who told me the concept was rubbish when I first got the job, or said: 'Oh no, that's not going to work', are now just as fascinated."
Describing it as "a game changer" for the TV industry, the 44 year-old actor believes the series "has contributed to why television has completely dominated entertainment for the last five years".
"You have a chance as an actor, across all these episodes, to become invested in a character.
"Across the last few series you can see completely different sides of Jaime Lannister, and he hasn't been killed off yet of course. That helps."
From the beginning, Game of Thrones has made household names of its stars, spawning several film careers - notably British actor Kit Harington, who had roles in historical epic Pompeii, and the recent adaptation of Vera Brittain's Testament of Youth.
Coster-Waldau, who made his own Hollywood debut in Ridley Scott's Black Hawk Down 15 years ago, describes his leading role in A Second Chance, made with fellow Dane, director Susanne Bier, as "a real anti-Game-of-Thrones hero".
He plays police officer Andreas "who seems to have it all, but in an instant loses it all when a family tragedy strikes, and he makes terrible moral choices".
"There's nothing swashbuckling about him," says Coster-Waldau, who agreed to make the film "within an hour of reading the script".
"And I didn't need a break from playing Jaime Lannister at all, I love him. But there's a joy in going off to shoot a film, to tell a story in 90 minutes as well, and this is an extraordinarily complex thriller, just a really meaty film to be part of, and it made me really think about how everything hangs by a thread.
"Life changes in a split second. I'm so lucky, I have a career that I really enjoy, and a family - but it could all go wrong."
Acknowledging this ethos could also be applied to Game of Thrones, which is notoriously explicit - both in its depiction of violence, death and sex - Coster-Waldau suggests the show "brings death into plain sight, which as a culture we're obsessed with avoiding these days.
"I can't verbalise its success formula, but I do know it's the kind of part every actor wants. And the show is so big, so vast, it's ridiculous. There's a couple of hundred cast [members] involved.
"The premiere is often the chance for all of us to see each other as we're often filming at different locations around the world. I remember at one Los Angeles premiere I went up to a fellow actor and said: 'Hello, what are you doing here?' and it turned out he was in the show and I didn't realise.
"I think the worst thing about Thrones is that you can spend an entire season working with someone and love it, and as they go off into the sunset, you think, 'I wonder if I'll get to work with them on this again?' You just never know when the death blow is going to fall."
Game of Thrones Series 5 starts on Sky Atlantic HD on 13 April.
A Second Chance is released in the UK on 20 March.