Marvin Gaye family in court bid to halt Blurred Lines sales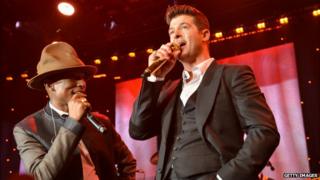 Marvin Gaye's family want to stop sales of Blurred Lines, after a court ruled it copied one of the R&B star's hit songs.
Gaye's children have filed an injunction to prevent the copying, distribution and performance of Robin Thicke, TI and Pharrell's 2013 track.
Last week, a jury said the performers had based elements of their single on the 1977 hit Got to Give It Up.
Pharrell and Thicke were ordered to pay Gaye's three children $7.4m (£4.8m).
Gaye's family also want to amend the verdict to include rapper TI - who contributed a verse to the song - as well as record labels Universal Music, Interscope Records and Star Trak Entertainment.
Blurred Lines was the biggest hit of 2013, topping the charts in 14 countries, including the UK, and earning two Grammy Award nominations.
It generated more than $16m (£10.8m) in profits and made more than $5m (£3m) for both stars.
Gaye died in April 1984, leaving his children the copyright to his music. His children - Nona, Frankie and Marvin Gaye III - sued Thicke and Williams in 2013.
The injunction against Blurred Lines, which was filed in court on Tuesday, could put Gaye's family in a position to negotiate for royalties and songwriting credits.
"With the digital age upon us, the threat of greater infringement looms for every artist,'' the family said in a statement.
"It is our wish that our dad's legacy, and all great music, past, present, and future, be enjoyed and protected, with the knowledge that adhering to copyright standards assures our musical treasures will always be valued.''
Williams and Thicke plan to appeal the verdict that they copied Got to Give It Up.
The musicians' lawyer said they remained adamant Blurred Lines was original, created solely by them.