Dame Judi Dench joins cast of election night drama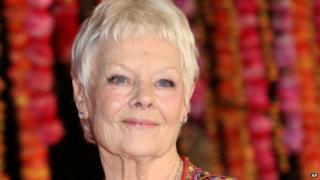 Dame Judi Dench has been cast in a ground-breaking new stage play set in a fictional polling station on UK election night.
The Vote will make theatrical history when it is broadcast live on TV as polls close for real on 7 May.
Its ensemble cast, which consists of about 50 actors, includes Mark Gatiss, Catherine Tate and Timothy West.
The play, by James Graham, opens at London's Donmar Warehouse two weeks ahead of election day.
It hopes to shine a light on the "diverse, diligent and often hilarious individuals" who out turn out at polling stations on election night and "turn these unglamorous settings into places where history is made".
The 7 May performance of The Vote at the Donmar will be broadcast live on the More4 channel from 20:30 - 22:00 GMT.
Dame Judi, who last appeared at the tiny Covent Garden venue in the late 1970s, will play a voter who arrives at the polling station with her daughter - played by her real life daughter Finty Williams.
"This is a unique opportunity for the Donmar to make a small theatre feel very big," said artistic director Josie Rourke.
"Some of the nation's greatest actors are coming together this election night to give theatre a seat at the table of a national event. Everyone involved is approaching this experiment with a sense of adventure."
Rourke last worked with playwright James Graham on 2014's Privacy, an interactive play about internet security that encouraged audiences to use their smart phones as part of the show. His other work includes political drama This House for the National Theatre.
"When James Graham and I collaborated on Privacy, we were attempting something no-one had tried before. This is our next step in pushing the boundaries of how theatre speaks to audiences in a brave, new and popular language about the times in which we live," Rourke said.
Described as "an unprecedented national television event", The Vote's live TV broadcast is being produced by Twofour - the team behind the Channel 4 documentary series Educating Yorkshire.
Tickets for the stage performances from 24 April - 7 May will be available through a ballot which opens on 30 March on the Donmar website.