James Corden hails 'overwhelming' US chat show reaction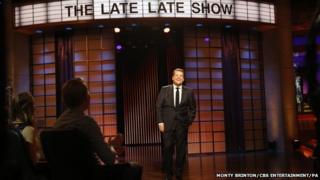 James Corden has talked of the "overwhelming" reaction to his US late night chat show, saying he had feared a "terrible onslaught" of criticism.
The UK actor and comedian's debut on The Late, Late Show won praise from fans and critics but he says a "rocky year" in viewing figures lies ahead.
Corden told BBC Radio 4's Today "it is far too early to judge our show or any of these type of shows".
He said his new role was "daunting but it has been a wonderful start".
Relatively unknown in the US, Corden was joined by Hollywood stars Tom Hanks and Mila Kunis for the first programme, filmed in Los Angeles on Monday.
Corden told Today: "We had gathered ourselves for a terrible onslaught of criticism and you never think these things are going to be met with such praise...
"Had the reviews or reaction been awful, we would have all been saying: 'Well these things never break straight away and we have to take time.'"
Corden said he was "very lucky" to go on air after David Letterman's long-running talk show. But he said it could be September, when Stephen Colbert takes over from the retiring host, "that we will start to be judged if we have found an audience".