Stephen Fry claims to have been 'hounded off' Instagram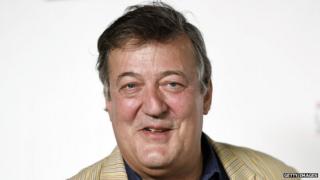 Broadcaster Stephen Fry has sworn off Instagram, saying he has been "hounded off" the photo-sharing service.
The 57-year-old, who commands a huge following on social media, announced his departure by posting a blank, black image on Monday.
"Newspapers, as ever, suck all the joy out of everything," he wrote. "Closing down. It was, briefly, fun. Bye."
The actor, author and QI host has had an Instagram account since June 2013 and also uses Twitter.
His time with Twitter, though, has seen several temporary silences, hiatuses and threats to stop using it.
In 2009 he said he was considering giving up on the micro-blogging website because it contained "too much aggression and unkindness".
Fry is currently "taking a holiday" from Twitter, telling his "dearest followers" last month he would be "away until May".