BB King leaves hospital after treatment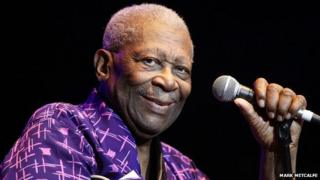 Blues guitarist BB King has said he is "feeling much better" after being treated in hospital.
The 89-year-old musician was reportedly admitted after suffering from dehydration caused by diabetes.
Writing on his Facebook page on Tuesday, King thanked fans and said he was leaving hospital.
The veteran bluesman has lived with Type II diabetes for more than 20 years.
King, known for such hits as The Thrill is Gone and Every Day I Have the Blues, was taken ill during a show last October and cancelled the rest of his tour after being diagnosed with dehydration and exhaustion.