Olly Murs and Caroline Flack to host The X Factor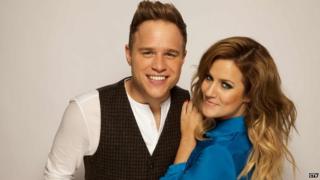 Olly Murs and Caroline Flack have been confirmed as the new presenters of The X Factor.
They are the first duo to host the Saturday night show; they replace Dermot O'Leary who announced he was leaving last month after eight years.
The pair previously co-hosted the spin-off show The Xtra Factor on ITV2 for two years from 2011.
Murs was a contestant on the show in 2009, when he was runner-up to Joe McElderry.
Since then he has gone on to sell 13 million records in five years.
Flack has also found further fame after winning last year's Strictly Come Dancing.
Murs said he was "incredibly excited and proud" to be returning to The X Factor alongside Flack.
"I love the show and it kick-started my career in music which has given me the opportunity to do what I love. I already have the best job in the world and it's about to get better - I can't wait to get started and be part of finding some amazing new talent," he said.
Flack said she was "beyond excited" about presenting the show with him.
"To have the privilege of doing this with someone who makes me laugh out loud is a massive bonus," she said.
"I'm also incredibly lucky to have the best tips and support from my showbiz big brother Dermot. I'm not sure how I can live up to his long-term residency but I know I can't let him down!"
X Factor boss Simon Cowell said he was "absolutely delighted" that they were returning to the show.
"When they were on Xtra together, they were a brilliant double act. Since then, Caroline's gone from strength to strength - and Olly has become one of Britain's biggest stars. So now I'm looking forward to them fronting the main show."
The new series of The X Factor returns to ITV in the autumn and open auditions are currently under way.