Costume drama A Little Chaos fails to blossom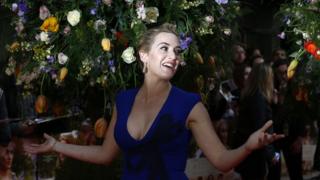 Alan Rickman's costume drama A Little Chaos has failed to blossom at the UK box office.
The horticultural tale, starring Kate Winslet and directed by Rickman, took just £331,530 in its opening week, despite playing on 426 screens.
Fast and Furious 7 topped the chart for a third week with takings of £3.04m.
Kenneth Branagh's live-action adaptation of Cinderella remained at two, followed by children's animation Home at three.
Child 44, about a series of child murders in Stalin's Soviet Union, was a new entry at four with takings of £5.05m.
Woman In Gold, starring Helen Mirren and Ryan Reynolds, rounded out the top five.
The film, which took £372,423 in its second week of release, is based on the true story of elderly Jewish refugee Maria Altmann's battle to reclaim Gustav Klimt's iconic painting of her aunt,
Portrait of Adele Bloch-Bauer I was taken from her relatives by the Nazis in Vienna at the outbreak of World War 2 and the fight to have it returned ended in the US Supreme Court.
Keanu Reeve's latest offering, John Wick, about a retired hitman seeking vengeance for the killing of his Beagle puppy, took £311,102 also in its second week.
US teen comedy The Duff at eight, and action comedy film Paul Blart: Mall Cop 2, at 10, rounded out the chart.
UK and Ireland Box Office
1) Fast & Furious 7 - £3.04m
2) Cinderella - £1.08m
3) Home - £854,377
4) Child 44 - £505,558
5) Woman In Gold - £372,423
6) The SpongeBob Movie: Sponge Out of Water - £365,505
7) A Little Chaos - £331,530
8) The Duff - £326,105
9) John Wick - £311,102
10) Paul Blart: Mall Cop 2 - £289,809