Simon Wood crowned MasterChef 2015 winner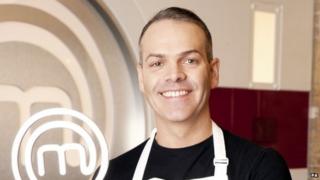 Data manager Simon Wood has been crowned champion of this year's MasterChef.
The 38-year-old father-of-four, from Oldham, fought off competition from fellow finalists Emma Spitzer and Tony Rodd to lift the BBC One show trophy.
All three had to cook three-course meals for judges John Torode and Gregg Wallace to end the competition.
Mr Wood, who has dreamed of being a chef since he was eight, said the experience was "life changing".
He told 5 Live's Breakfast on Saturday that he gets the inspiration to invent dishes when he is out running.
He said it was surprising what you were able to come up with "just to keep your mind busy".
Greg Wallace, in his discussions with Torode as they decided the winner in Friday's programme, said Mr Wood had got "better and better" during the competition and he had "no doubt" he would have a professional career in food.
Speaking after he was announced the winner, Mr Wood said: "It's everything I wanted it to be, and more besides."
'Enormous ambition'
The winning menu consisted of: a starter of octopus, served with chorizo crisps, cannellini bean and chorizo salad, brunoise tomatoes and a sherry and smoked paprika vinaigrette; a main course of squab pigeon served two ways with three types of carrots, pommes parisienne, girolle and trumpet mushrooms, carrot puree, watercress puree and a cassis jus; and ending with a lemon posset dessert.
Wallace added: "He came in here with enormous ambition, he wanted to cook like a chef, and right now he is."