Courtney Love sued by co-author of her memoir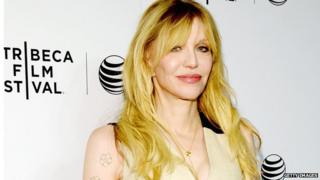 A music journalist who worked with Courtney Love on her unpublished memoir has taken legal action against her.
In court papers, Anthony Bozza has accused the singer of failing to compensate him.
He claimed Love, who is the founding member of the band Hole and the widow of Nirvana frontman Kurt Cobain, owes him more than $200,000 (£130,118).
The anticipated book was originally expected on shelves in 2012 but has been repeatedly delayed.
Bozza was hired in 2010 to work with the singer, promising insight into her much-discussed marriage to Cobain; her various career reinventions and struggles with substance abuse.
In a breach of contract lawsuit filed in New York last week, he said Love had received $400,000 (£260,408) out of a $1.2 million (£781,224) advance from publisher HarperCollins.
The lawsuit also claimed "Love's frequent unexplained absences meant that she did not make herself reasonably available to Bozza for months at a time."
Although he has acknowledged receiving $100,000 (£65,102) for the project, Bozza has sought an additional $200,000 in damages based on the minimum fee he was guaranteed.
"Keep your money"
In the lawsuit, Bozza said he sent drafts of the introduction and first two chapters to Love in 2012 and she responded by email calling the work "beautiful!!!!'".
On Twitter last February, Bozza wrote, "The book I've written with @Courtney is in the anteroom, waiting to come out, and it's possibly the greatest thing I'll ever do with anybody."
However, in an interview with the Daily Telegraph a couple of months later, Love was quoted as saying that she rejected Bozza's draft because it was too revealing.
"It's like me jacked on coffee and sugar in a really bad mood," she said. "I said keep your bloody money. I'd rather keep my friends."
Bozza said Love told him by text message that she had started working with a new writer, who turned out to be "worthless" and had put the project in "even more chaos."
He claims that he was never terminated and that new writers were using his work as a base.
"We look forward to a speedy resolution of this case so that both parties can move on," Rishi Bhandari, a lawyer for Mr. Bozza, told AFP.
Love and HarperCollins have not commented on the lawsuit.
Bozza is an author and journalist known for his articles in Rolling Stone magazine and best-selling books on musicians including Eminem and AC/DC.
He previously profiled Love for The New York Times in 2010.