Bafta honour for Cilla writer Jeff Pope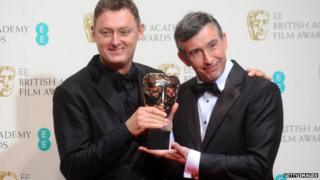 Jeff Pope, the writer behind dramas such as Cilla and Mrs Biggs, is to be given a special Bafta.
The Alan Clarke award, named in honour of the late TV director, was last presented to television executive Jane Tranter in 2009.
Pope will receive the trophy on 10 May, in recognition of his outstanding contribution to TV.
Andrew Newman, chairman of Bafta's Television Committee, called Pope "one of the finest exponents of his craft".
Previous winners include Paul Greengrass and Adam Curtis.
Speaking to the BBC from the set of his latest TV drama Cradle to Grave - based on Danny Baker's autobiography - Pope said he was "delighted" to receive the honour.
He said it would be an opportunity for him to reflect on his career. "I tend to always to be moving forward onto the next thing, so if ever there was going to be a moment to stop and look back at the work I've done, this is it."
Pope won a Bafta in 2007 for See No Evil: The Moors Murders, while his screenplay for the film Philomena - co-written with Steve Coogan - won a film Bafta last year.
He has had eight other nominations, including a nod this year for his mini-series Cilla, for which Sheridan Smith is shortlisted for leading actress.
"I've had quite a few bridesmaids and a couple of brides," said Pope. "It's nice to be at the Baftas this year for Cilla as well as the special award for past work - everyone likes to feel contemporary."
He added: "Writing is all about facing down the tyranny of the blank screen, but my message to all aspiring writers is that once you've hit that first key, you discover it's really not so difficult as you'd imagined."
Pope's career began as a reporter for the Ealing Gazette in London. In 1983, he moved into television as a researcher in current affairs with London Weekend Television.
He is currently the head of factual drama at ITV.
The Bafta TV awards will be hosted by Graham Norton at the Theatre Royal Drury Lane, London, and broadcast on BBC One.