Netflix and Ellen DeGeneres serve up Green Eggs and Ham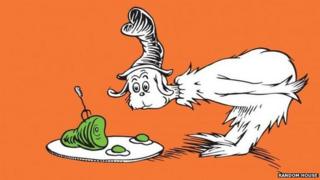 Dr Seuss's tongue-twisting children's tale Green Eggs and Ham is to be adapted by streaming service Netflix.
The story, in which Sam-I-Am pesters the book's narrator to eat a plate of green eggs (with ham) in a series of increasingly ridiculous locations, will become a 13-part animated series.
Comedian and chat show host Ellen DeGeneres is producing the show.
"It's going to combine two of my favourite things - Dr Seuss and binge watching," DeGeneres said in a video.
No plot details have been revealed, but Netflix did say the eponymous meal would eventually be eaten.
Reward
First published in 1960, Green Eggs and Ham is one of Dr Seuss's most popular works, regularly selling more than 500,000 copies a year in the US.
It was written to settle a bet that the children's author could not write a book with fifty or fewer distinct words.
He succeeded - creating the surreal, rhyming story of Sam-I-Am, who persisted in his quest to get the narrator to eat the off-colour meal, whether served in a house or with a mouse; in a boat or with a goat; or in a box with a fox.
However, Dr Seuss never collected his $50 reward from Bennett Cerf, the co-founder of Random House.
Keeping to the style of the original, Netflix announced its new series in verse, with a press release that read:
In this richly animated production,
a 13-episode introduction,
standoffish inventor (Guy, by name)
and Sam-I-Am of worldwide fame,
embark on a cross-country trip
that tests the limits of their friendship.
As they learn to try new things,
they find out what adventure brings.
Of course they also get to eat
that famous green and tasty treat!
You can stream it on a phone.
You can stream it on your own.
You can stream it on TV.
You can stream it globally.
Jared Stern, a writer who recently signed on to script The Lego Movie 2, will create the Netflix adaptation and serve as an executive producer along with DeGeneres.
The series is set to debut in 2018.