The business of Cannes: Part 2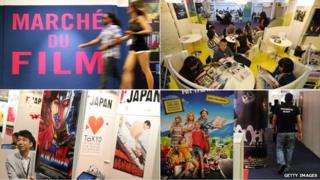 In the lower floors of the Palais du Festivals at Cannes, in the heart of the Marche [Market] du Films, deals are being done, films are being financed and stars of the future are on the threshold of discovery.
Last year around 4,000 films and projects were presented to sales agents, producers and distributors. There were 1,500 screenings of a thousand of those films, of which 75% were premieres.
British producers Rachel Richardson-Jones and Daisy Allsop have been taking meetings, looking for financiers who can help find the cash to make their films which include a monster bank heist movie and a coastal drama set in the north-east of England.
Having talked about their expectations before the festival, we caught up with them to see how the pitch meetings were progressing.
---
Daisy Allsop
How has Cannes changed since you first started coming here?
It's changed loads, or maybe I've changed loads. There used to be a lot more lavish parties, or there seemed to be. A lot less money is being thrown at parties but that's probably a good thing.
Is that a sign of a change in the industry?
Yes, I think it's hard enough to get money just to make films so I think people are aware of channelling it in the right direction. But it's been great, I have two great film packages and they're fun to talk about because I really believe in them and there are a lot of people who are hungry for stuff.
Talk us through how you pitch to sales agents and financiers. Is it like you see it in the movies?
Maybe. Slightly less articulate. You sit down and catch up and if you haven't met them you give them a bit of background. But yes, you do a pitch.
I have a package with some photographs which give a sense of the film. You talk about the content and the financial structure and how it would work and you find out how they work. But you have to follow up - it's all about the conversation afterwards when they will look at the scripts and so on. But to sit down and talk face to face is a good start.
How have the meetings gone so far?
I had a full day of meetings with agents and financiers and met some producers from other countries with a view to maybe working together or something.
Most of the films here seem to be co-productions. Is that the way film people work now?
It's hard to get all the money out of the UK, it can be done, but there are various countries that the UK has a co-production treaty with where you can still qualify as a British production and get your tax credit. You can also qualify as a French or Dutch or Canadian production. It increases the amount of soft money you can raise, which is the money that people are not hard about how soon they will make it back.
Why is it harder to find finance now? Are people reluctant to invest or is there just huge competition?
There is a lot that feeds into it. Distribution is changing. There's a lot more event cinema, which means there are fewer screens for your film to be shown. Piracy is obviously a problem that affects everybody. There's less money around, too, and it's harder to find audiences who will pay to sit down and watch films.
Is there enough help for young producers?
I think in terms of just progressing each time you make a low-budget film, you want to step up to the next level with a bigger budget and support - learning who to make better deals with and moving forward faster. It's quite difficult for producers to sustain a company and make a living while you are producing films, so something like Market Trader [a Creative England scheme to help young producers in the marketplace] was useful.
And the projects you were working on?
One is going to start shooting in the winter, around January, and one next summer. They both seem like reasonable timelines with a fair wind.
Rachel Richardson-Jones
What has been your experience of Cannes so far?
I got off the plane and had my first meeting with Gregory Schenz from [US film financiers] Endgame, which is a relationship that we started at Los Angeles and has carried on. We're talking to him to find out if any of our films fit their emit.
Since then I've had a number of really positive meetings and done a bit of schmoozing and catching up with people. We have a few meetings left to fulfil but in principle I think we have managed to lock down a sales agent for Dearly Beheaded. We are still working on The Besieged and Habit and trying to find the right sales agent for those films, so one tick of three boxes so far.
What did you take into the meetings? Any visual aids?
Yes, [director] Sim[eon Halligan] just cut a trailer for The Besieged which has gone down really well.
It is important for anybody who is coming out here [to] just arm yourself with as much as you can. Having things you can show and send on makes a massive difference. Having the gift of the gab and being able to talk the talk obviously help. You have to be prepped at any given moment.
The sheer number of producers in Cannes is overwhelming. How do you make yourself heard over the din?
Having something you can leave with people, because you never know the footprints you're leaving.
Some years ago we were at Cannes and had a load of stuff printed and came back thinking there'd been a lot of talk but nothing else, really. We were shooting White Settlers and out of the blue the then head of of production at Fox International was looking to connect with UK genre producers and she sent me an email which I almost binned. She said she found out about us by keeping some of our stuff on file.
Are you still looking to start filming Dearly Beheaded in the summer?
It's looking firmer than the last time we spoke, purely on the back of the fact that we know someone who has a sales interest who expressed a massive interest in taking the project on. When we get back to the UK we'll finalise that.
As the director, Simeon, you have a vision of what you want these films to be. Do you have to make compromises, even at this early stage?
Simeon: A lot of my work as the creative is to make sure that Rachel has everything she needs to be able to pitch the movie to people, that she has the best package. For The Besieged we put together a storyboard and a trailer which is going down well, which gives you a flavour and feel of what the final film would be. People like to see images, they don't have time to read.
As for compromises, at this stage you're just trying to get people excited and interested. There are some issues about Dearly Beheaded and some talks to be had about whether the title will be changed, which I don't really want to do. But there are elements to compromise in terms of trying to raise finance.
Do you have to come out here with the realistic prospect that you might go home empty handed?
Simeon: Cannes is about setting things up for the future; it's not always that often at the smaller independent level that massive deals are going to happen here. Sometimes they happen before Cannes and they get announced at Cannes so it looks like they happened here when they didn't. But you have to build and develop relationships with people in Cannes, that's what it's all about and over a number of years they hopefully come to fruition.
Rachel: From my point of view, as you get more experienced, it's about being really strict with your time and other people's time. It's about bring realistic about where your film sits in the market and who you are going to see. We're a genre company so we'll see genre agents. It's about trying to see the people who will want to see your film and get excited about it.