BBC 'could lose Olympics' if licence fee is cut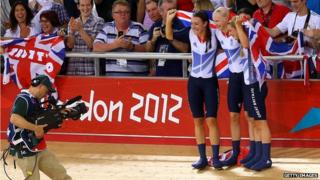 The BBC could lose the rights to major sporting events like the Olympics if the licence fee is cut significantly, the head of BBC Sport has said.
According to the Daily Telegraph, Barbara Slater warned of "a tipping point" at which the BBC will not be able to afford top championships.
The BBC has the rights to the Olympics until 2020, as well as events like Wimbledon and the Six Nations.
The current TV licence fee will remain at £145.50 until at least April 2017.
The fee has been frozen since 2010, leading to real-terms cuts in departments like BBC Sport.
Its cost will be reviewed in the next 18 months, when the corporation's royal charter is renegotiated.
'Treasured' events
The Daily Telegraph reported that Mrs Slater, who was speaking at the paper's Business of Sport conference, predicted "challenges around the licence fee going forward".
She said: "Having had a number of years now flat licence fee, which has resulted in smaller budget for individual divisions such as sport, there is going to come a tipping point at which the BBC does need investment if it is going to continue to compete for, I think, events that people really treasure on the BBC, like the Olympics and some of the major championships.
"And, of course, we're exploring a multitude of different solutions to that, including sharing with other broadcasters. And there is still a very, very significant investment that we're currently making.
"But to see that on a significantly downward trajectory, I think, would be enormously damaging to the ecology of sports broadcasting."
'Mediocre' staff
Speaking at the same event, ITV director of sport Niall Sloane said he supported the licence fee but criticised the way it was being spent.
"There is just far too much management [at the BBC]," he was quoted as saying by the Telegraph. "It's astonishing.
"And no matter how many people from the BBC tell you they've cut this and they've cut that, there are swathes of people doing jobs that don't need to exist and doing them in a mediocre way."
The debate follows the appointment of John Whittingdale as the new secretary of state for culture, media and sport. Mr Whittingdale has previously said the licence fee is "becoming harder and harder to justify and sustain" in its current form.
In 2012, the BBC secured the UK's exclusive Olympic broadcast rights until Tokyo 2020. At that time, the deal was reported to have cost around £60m.
The BBC also has exclusive rights to Wimbledon until 2017 and shares coverage of the football World Cup, European Championships and FA Cup as well as the Six Nations and Formula One.