The Beatles' first record contract could fetch $150,000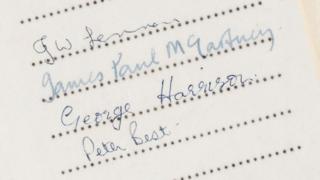 The Beatles' first recording contract is to go up for auction next month, with an estimated valued of $150,000 (£95,700).
The six-page contract was signed in 1961 in Hamburg, where the band cut their teeth playing in nightclubs.
It led to the single My Bonnie, which was released on Polydor in Germany under the name Tony Sheridan and the Beat Brothers.
It will be sold by Heritage Auctions in New York on 19 September.
John Lennon signed the document JW Lennon and Paul McCartney signed his full name James Paul McCartney.
It was also signed by George Harrison and Pete Best, the drummer who was to be replaced by Ringo Starr the following year.
The band were backing British singer Tony Sheridan at Hamburg's Top Ten Club at the time, and together they were signed by German record producer Bert Kaempfert to record a rock'n'roll version of My Bonnie Lies Over the Ocean.
The papers are being sold by the estate of Uwe Blaschke, a German graphic designer and Beatles historian, who died in 2010.
The auction also includes a signed copy of the band's first UK single Love Me Do and a postcard Ringo Starr sent to his grandmother from Hamburg.