Gareth Malone's Naked Choir to keep clothes on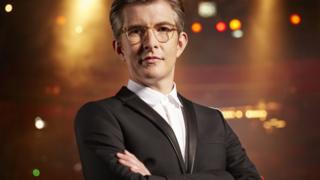 Choirmaster Gareth Malone has enjoyed huge success with shows like The Choir and its offshoots like Military Wives, Sing While You Work and The Big Performance on CBBC.
His new BBC Two show The Naked Choir focuses on a capella groups. But rather than being complete novices, the singers are all amateur and will compose their own arrangements.
Malone tells the BBC why his shows have worked and why the BBC should continue making more like them.
Gareth, some people might tune into this with the wrong idea.
Sadly I am not taking my clothes off, it's about the naked human voice. All of the groups are singing without instruments, which is a very exposing musical challenge because everything can be heard.
You can't cover it or hide amongst the backing music as happens in a lot of music forms, where you can hardy hear the vocals because they're so lost in the mix.
A capella seems to be big right now, through shows like Glee and films like Pitch Perfect. Why is that?
I think the big thing has been the internet. Singing is one of those forms where it feels very real, you're just hearing human voices and I think people are very wise to auto-tune and production techniques.
It's quite amazing to hear sounds recreated naturally by the human voice and it lends itself very well to online videos. Also, it's just very impressive to watch people, the "wow" factor of watching somebody doing the sound of a synthesizer or kick drum, whatever it might be.
Do you still meet people who surprise you with their voice?
You can never really judge a book by its cover with a voice. Obviously, there are things that help you tell if someone is British or French and you can have expectations of the sounds they're going to make. But you never know what that instrument will be like. That's just genetics, so that's always a surprise and it's always interesting and a challenge to see if you can push them.
Is it more of a challenge then to work with choirs with no instrumental backing?
It's more of a challenge for the participants because the challenge for me is to find interesting ways to challenge and push them musically. It's about making those groups better than they are at the beginning, in the same way that would happen on Great British Bake Off, you want to see amazing cakes by the end. the standard of performances gets better because I push them really hard. The standard is higher because they are people who consider themselves singers albeit not professionally.
Will they choirs be singing classic repertoire or doing contemporary interpretations?
Its certainly not classical, or choral, they are mostly contemporary. But by that, I include Elvis, Buddy Holly, Electric Light Orchestra, Little Mix, 90s dance records. A whole plethora of different musical styles but broadly speaking contemporary pop.
The Choir and its sequels have been phenomenally successful, why do audiences engage with the format?
I feel like singing is always interesting, there is never going to be a time when people are tired of it, it's a natural response to the human voice and we've tried to change it as much as possible. I don't like doing the same thing twice. This is something new and fresh, it still includes singing and people developing, and the funny things that happen along the way. they are real stories if people really learn something. and that's part of the appeal, I don't think it needs sexing up for television
There is no way that anyone could have predicted the success of The Choir in the way that no-one could have predicted the success of Bake Off. How important is it that the BBC can continue taking these chances?
Absolutely, they're so counter-intuitive. I suppose you would expect me to be a fan of the BBC because I'm on it, but I've always been a fan of the BBC. When my first series was mooted, I was delighted. So, yeah it definitely is a place where you can try these unusual ideas and find an audience for them.
I think the first series of The Choir, absolutely nobody saw that coming, which is wonderful. You can't be creative to a plan.
Did Armando Iannucci hit the nail on the head delivering the MacTaggart address at the Edinburgh TV festival when he said about British TV: "I love it that we think nothing of the fact that a show about baking is a key part of our primetime viewing. Or shows about antiques, or family trees, or polar bears"?
Bake Off had 10 million viewers the other day, for people baking cakes. It's alchemy, it's about so many different ingredients. It's always nerve-wracking at this stage, when it's done but nobody's seen it. It's always a terrifying moment of thinking: 'I wonder if people will like this one? Is it too different? Will people be interested in a capella?' I'm very passionate about it. I loved making it and I'm really pleased with it.
Just before you go, you're a few weeks away from celebrating a landmark birthday - the big 4-0. Do your friends arrange a special performance of Happy Birthday for you?
It always hideous, always hideous when my friends sing to me. Deliberately badly.