Charlie Sheen 'to make revealing personal announcement'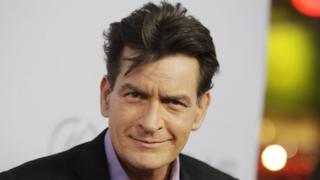 Actor Charlie Sheen is set to make a "revealing personal announcement" on US TV, amid intense press speculation the 50-year-old star is HIV-positive.
The former star of sitcom Two And A Half Men will appear on NBC's Today show at lunchtime, UK time.
Sheen rose to fame in the 80s with hit films including Platoon and Wall Street and, in 2011, was the highest-paid actor on TV thanks to his sitcom role.
He has frequently struggled with drink and drug abuse.
Fired from sitcom
An announcement on the NBC website said: "In a Today exclusive, Charlie Sheen will make a revealing personal announcement on Tuesday November 17 in a sit-down interview with Matt Lauer."
The announcement is expected to be made around 1230 GMT.
The star, who played a hedonistic bachelor in Two And A Half Men, was fired from the show in 2011 after a downward spiral in his personal life that was often played out in public.
Production had been suspended after he entered rehabilitation for reported drug and alcohol abuse.
The actor - the youngest son of West Wing star Martin Sheen and brother of actor Emilio Estevez - has also had a troubled personal life and has been married three times.
He first marriage was to Donna Peele in 1995 but they split up after a year. His second marriage was to former Bond girl Denise Richards, with whom he has two daughters. They divorced in 2006 and he married Brooke Mueller, with whom he has twin sons.
He was then due to marry adult film star Scottine Ross, but the wedding was called off.