Prince: The colourful life of the pop superstar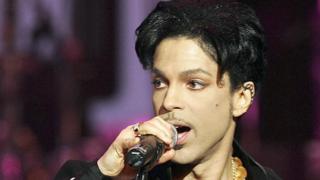 Prince's life was as colourful as his wardrobe, with both his professional and personal relationships constantly evolving.
Unsurprisingly, music ran in the blood of Prince Rogers Nelson.
The son of two musicians, his father John Lewis Nelson - also known as Prince Rogers - was a jazz pianist, and his mother Mattie, a jazz singer.
One of eight siblings, his parents divorced at an early age, and his mother soon remarried, leaving Prince to be passed between family members reportedly more than 30 times.
His relationship with his father was turbulent, but they reconciled in the 1980s, collaborating on several songs - notably on 1985's Around The World in a Day.
Fractious relationships
As his musical career took off, his relationships with co-musicians were often fractious.
He fired Jam and Terry Lewis from his early group, the Time, for missing a show. And despite having just finished five records, he unexpectedly dismissed Wendy and Lisa of The Revolution.
"I think he wanted more party time. We were too serious and into the music," Wendy said. Lisa told also the Star Tribune: "Prince could push really hard and sometimes leave out the positive reinforcement."
In an interview with Rolling Stone in 1985, Prince himself said: "The reason I don't use musicians a lot of the time had to do with the hours that I worked. I swear to God it's not out of boldness when I say this, but there's not a person around who can stay awake as long as I can. Music is what keeps me awake."
However, a select few colleagues did stick around - notably Alan Leeds, his horn player, who later became his manager.
A life of romance
Although Prince was not married at the time of his death he led a life of romance, dating a host of pop stars, models and actresses.
He met Denise Matthews, known as Vanity, at the 1980 American Music Awards. She became his first protegee and the lead singer of his band, Vanity 6.
In her 1997 autobiography, she claimed Prince was the only man she ever truly loved. She died earlier this year, also at the age of 57, from kidney failure.
When Matthews dropped out of Prince's 1984 film Purple Rain, the singer met his next muse, Mexican model Patricia Apollonia Kotero - known as Apollonia.
She replaced Vanity and character's name changed from Vanity 6 to Apollonia 6.
A few high profile romances followed - notably Madonna, who he dated briefly in 1985, and actress Kim Basinger, when she was starring in Batman in 1989.
Together they recorded his erotic EP Scandalous Sex Suite, with speculation that it was recorded while the pair were having sex.
He is also responsible for coining the name Carmen Electra, for the Baywatch actress formerly known as Tara Leigh Patrick.
However, most of his romances were closer to home.
Susanna Melvoin - twin sister of The Revolution's guitarist Wendy - inspired some of his most personal songs, including If I Was Your Girlfriend and Stranger Relationship ("Baby, I just can't stand to see you happy - but more than that I hate to see you sad.").
But he reportedly found it very hard to recover from their break-up in the mid-1980s.
The superstar was married twice.
He married the dancer Mayte Garcia, who became the focus of his 1992 album known as Love Symbol, and whom he wrote his hit song The Most Beautiful Girl in the World about.
They wed in 1996 when she was 22, and soon after had a son together - Prince's only child - called Boy Gregory. But he died a week after his birth from the rare disorder Pfeiffer syndrome, which affects skull growth.
Prince had previously sampled Boy's heartbeat in the womb for Sex in the Summer, a song on his Emancipation album.
The couple would famously do an interview with Oprah Winfrey a week later in which they talked as if their son was still alive.
However, grief and a further miscarriage tore the couple apart and they divorced in 1999.
Two years later, he married Canadian charity worker Manuela Testolini, 19 years his junior. A low-key marriage, they divorced amicably after five years.
She went on to marry Eric Benet, the ex-husband of Halle Berry.
One other notable female relationship was Sinead O'Connor.
Prince penned her international smash Nothing Compares 2 U, propelling the Irish singer to stardom, which the star is said to have written about Melvoin.
O'Connor later told Uncut magazine, "Prince and I detest each other", and that their time working together "got violent too".
Prince's former loves have taken to social media to express their grief.
Madonna wrote on Instagram: "He changed the world! A true visionary. What a loss. I'm devastated."
Mayte Garcia also said: I can't even think of the words of what I'm feeling. This man was my everything, we had a family. I am beyond deeply saddened and devastated. I loved him then, I love him now, and will love him eternally. He's with our son now."