Turner on the £20 note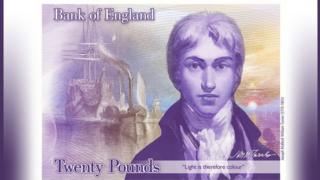 Artist JMW Turner and his painting The Fighting Temeraire will feature on the new design of the Bank of England's £20 note to enter circulation in 2020 - but is it a good choice?
I suppose if you were to choose the most influential British artist whose work resonates around the world and influenced a modern movement, you'd have to choose JMW Turner.
There is no doubt that he was magnificent painter, a visionary artist and a fabulously interesting character.
But, and this is only a personal opinion, I really wish they had gone for the Victorian photographer Julia Margaret Cameron.
She too, in her own way, was a pioneer - coming to the art form late in life and creating iconic images of great intellectuals of her day including that of Charles Darwin which can be seen on the face of the £10 note.