Zoe Wanamaker's all-female Elegy divides critics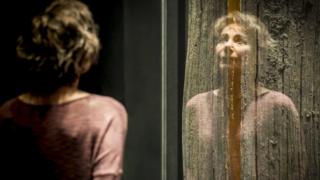 Zoe Wanamaker's starring role in an all-female cast of new play Elegy at the Donmar Warehouse in London has provoked split critical opinion.
Some have declared it too slight at just over an hour long, but others have praised its emotional power.
Writer Nick Payne's story is of Lorna, played by Wanamaker, and her wife Carrie (Barbara Flynn), as they grapple with a life-changing dilemma.
The Guardian called it "moving" but the Daily Mail said it was "sterile".
In the play, Lorna has a debilitating and fatal brain disorder, with the only cure being a radical procedure that would also erase her memories of the previous 20-30 years - including the moment she met fellow teacher Carrie at a choir rehearsal.
The third actor is Nina Sosanya, the doctor who explains the options to the couple, her scientific jargon representing the head standing in stark contrast to the heart evident in Lorna and Carrie's fears.
The story is told, on a bare stage dominated by a dead tree that has been cleaved in half, in reverse - echoing the way memories work and allowing us to see how the couple got to a point where they cannot recognise each other.
The play, directed by Josie Rourke, received some four star reviews, with Michael Billington in the Guardian saying the "relatable characters" make the play work.
"At its most moving, the play poses the question of whether love, like religious faith, is a conscious state of mind that can be eradicated: much of the play's anguish derives from Lorna's post-op indifference to the devoted Carrie," he writes.
Sarah Crompton, in What's on Stage, also says Elegy is a four-star success.
She said it was "most beautifully acted" - and that she would have liked to have seen more.
She wrote: "There are few actresses I'd rather spend an hour and a quarter with than Zoë Wanamaker, Barbara Flynn and Nina Sosanya. For the pleasure of their company alone, Nick Payne's new play Elegy is time well spent."
'A noble endeavour'
But while Quentin Letts in the Daily Mail says Elegy is a "noble endeavour", it is one that left him unaffected, awarding it just two stars.
The Stage is slightly kinder in giving it three stars.
Natasha Tripney describes it as "a primer in neuroscience", as well as "a thought experiment" and "a moving, tender account of two women."
But while Elegy is "admirable", it is a little too "neat and clean" for her liking.
Ann Treneman, writing in the Times gave the "short but also very intense" play four stars.
Aleks Sierz of the Arts Desk praised the way Payne writes "with economy and grace".
But he said the content was "disappointing", writing: "The experience of watching this show is ultimately frustrating - and the result feels tricksy and superficial. Like a 10-minute 111 call rather than an hour-long consultation."
'Personal dilemma'
Wanamaker, attending the press night in a jacket covered in news print, said she believed Elegy was a "hopeful" play about medical advances.
"It's a very optimistic look at the very near future," she said. "The wonderful thing about it is that it poses the question constantly - do you have control of yourself? At a cost of what?"
She compared it to the ethical dilemma over euthanasia, and added that it was "very important" for people to be able to make their own choice over such issues.
"Every individual has their own decision to make," she said, adding it was a "wonderful debate".
Flynn agreed, saying: "It's a very personal thing. It becomes a personal dilemma for the audience members."
She described it as a "completely heartbreaking story" and that she couldn't put the script down when she first read it.
Sosanya said she "found it quite difficult because it was so upsetting" and that when she read it again, she could "see the beauty in it".
The actors spoke to scientists and ethicists as part of the research for the play, with Payne himself consulting former Archbishop of Canterbury Dr Rowan Williams amongst others.
He said he did not set out specifically to write a play with an all-female cast, explaining: "I don't think I gave it much thought, is the really honest answer.
"I knew I wanted to write for a different generation - Barbara and Zoe's generation, one I haven't really worked with before."
He said the play was about "love and death and grief - how you prepare for that, and whether [or not] you can".
Elegy is on at the Donmar Warehouse until 18 June.