Eurovision: How Twitter reacted to new voting and Jamala's win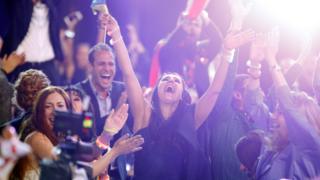 This year's Eurovision Song Contest dominated the conversation worldwide on social media, including tweets about Ukraine's win, the new voting system, and tributes to former host, the late Sir Terry Wogan.
Over the course of the show there were five million tweets using the top trending hashtag on Twitter #Eurovision, with a peak of nearly 65,000 tweets per minute when Ukraine was announced the winner.
Britain's entry featuring the duo Joe and Jake finished third from bottom in the contest.
Here is how Twitter users reacted to the extravaganza.
---
Australia were the runners-up and the map of Europe was temporarily redrawn.
Many were impressed by the Russian entry particularly with its clever presentation.
The new mix of jury votes and audience votes caused excitement.
But confused others particularly new viewers from the United States.
Host Graham Norton paid tribute to the late Sir Terry Wogan who presented the show for many years.
As did Pointless presenter, Richard Osman who delivered the results from Britain.
The entertainment during the interval was much commented upon, especially the performance of US singer Justin Timberlake.
When Malta awarded 12 points to Britain the country was thankful.
But Ukraine not only won the public vote, it prompted many tweets commenting on the flamboyant announcer of the country's results.
Compiled by Andree Massiah