Lucian Freud's unseen childhood sketch goes on display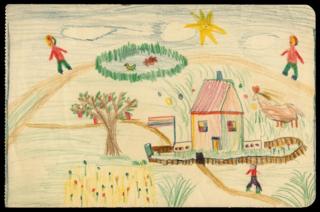 A colourful childhood sketch by artist Lucian Freud has gone on display at the National Portrait Gallery.
The picture, which was drawn by Freud during his early life in 1930s Berlin, forms part of Lucian Freud Unseen at the London gallery.
A fragment of a self portrait and a study of Lady Caroline Blackwood that relates to his 1954 work, Hotel Bedroom, are also being shown.
Senior curator Sarah Howgate said they "help us further understand" Freud.
The exhibition has been created from an archive of sketchbooks, drawings and letters acquired by the nation through the acceptance in lieu scheme following the artist's death in 2011.
Born in Berlin in 1922, Freud fled the city with his family in 1933 and became a British citizen in 1939.
The childhood sketch reflects "early passions and interests, such as birds and trees, which were to become recurring themes in his work", a gallery spokesman said.
The works on display also include an illustration for the cover of his daughter Esther's 1992 novel Hideous Kinky and several drawings of his well-known sitters, such as Lord Goodman.
Ms Howgate said the "exciting and extensive body of valuable material will greatly expand our holdings of works by Freud in our collection and help us to further understand the studio practice of an artist whose focus and preoccupation was the portrait".
The 47 sketchbooks together with drawings and letters settled a bill of £2.94m of inheritance tax from the Lucian Freud Estate, under the inheritance in lieu scheme.