Ghostbusters beaten by The Secret Life of Pets at US box office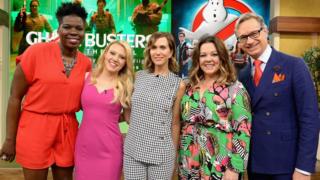 The Secret Life of Pets has held off competition from the reboot of Ghostbusters to retain the number one spot at the US box office.
Ghostbusters, which features an all-female lead cast, debuted at number two after taking $46m (£34.7m).
Pets retained the top spot with takings of $50.6m (£38.1m).
Finding Dory took $11m (£8.3m) over the weekend, overtaking Shrek 2 to become the highest-grossing animated film of all time in the US.
The sequel to Finding Nemo slipped to number four this week, but has now taken $445.5m (£336.2m)since its US release.
Shrek 2, the previous record holder, took $444.2m (£335.2m) when it was released in 2004.
The Legend of Tarzan dropped a place to number three over the weekend after taking $11.1m (£8.4m).
Mike and Dave Need Wedding Dates, starring Zac Efron and Anna Kendrick, also dropped one place to number five with $7.5m (£5.7m).
The Infiltrator, which stars Bryan Cranston of Breaking Bad, took $5.3m (£4m) to debut at number seven - the only new entry in the top 10 apart from Ghostbusters.
US BOX OFFICE
1. The Secret Life of Pets - $50.6m (£38.1m)
2. Ghostbusters - $46m (£34.7m)
3. The Legend of Tarzan - $11.1m (£8.4m)
4. Finding Dory $11m - (£8.3m)
5. Mike and Dave Need Wedding Dates - $7.5m (£5.7m)
Melissa McCarthy, Leslie Jones, Kate McKinnon and Kristen Wiig all star in the Ghostbusters reboot, which is directed by Paul Feig.
The first trailer for the film, which was released earlier this year, became the most disliked movie trailer on YouTube. The trailer has notched up 951,000 "dislikes" from users to date.
But the movie has received broadly positive reviews from critics - The Telegraph gave the film four stars while The Guardian described it as "a blast".
---
Follow us on Twitter @BBCNewsEnts, on Instagram, or email entertainment.news@bbc.co.uk.