Jean Michel Jarre: Writing collaborations broke 'solitary process'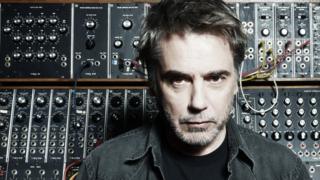 French legend Jean Michel Jarre worked with guest acts on his latest albums because musicians have become "isolated in our home studios".
The 67-year-old, in the UK to headline Cheshire's Bluedot festival, recently released the second part of his collaborative project, Electronica.
It saw him composing with the likes of director John Carpenter, rock group Primal Scream and techno DJ Jeff Mills.
He said face-to-face writing revealed their "secrets" and helped him learn.
He added that working with collaborators made him realise "we all start with the same state of mind".
"We all begin hesitating, not being sure of which direction we will go, slowly building the track.
"Suddenly, an idea comes and we're all excited like children, wanting to exploit it right away.
"I really discovered that it's a timeless process."
The Electronica albums featured a wide variety of acts, from the more established like the Pet Shop Boys, Gary Numan, Pete Townshend, Cyndi Lauper, Air and Moby, to the less well-known such as Julia Holter, Boys Noize and Siriusmo.
Jarre said he wanted to work with artists that "have been and are a source of inspiration to me and were linked, directly or indirectly, to electronic music".
Electronica took five years, with each song beginning with a demo inspired by "my ideas about what they represented to me" which the composer took to the acts personally.
Avoiding the internet
He said the tracks could have been completed quicker if he had used the now-normal way of collaborating - sending tracks and ideas back and forth electronically.
"I wanted to meet and work with people in their studios or mine, sharing the creative process physically and not just sending files through the internet.
"It was not to find new inspiration but instead because of a feeling that, especially in electronic music, we are isolated in our home studios.
"Making music these days is a quite solitary process and I thought it would be interesting to share this face-to-face.
"I've been really moved that all these great artists opened their doors and shared secrets, weak points and specific ways of approaching composition.
"It was a treat to work with Pete Townshend, Gary Numan, Moby, Air, Pet Shop Boys, but also with the younger acts, such as Gesaffelstein or Rone, who is a very talented French newcomer.
"I wouldn't say I enjoyed one more than anyone else, because when they said yes, they all gave so much to the process."
The one downside was that all that time recording made Jarre yearn for one of his great passions - playing live.
The musician is something of a concert legend, having played huge shows across the world, including one at the Pyramids of Giza to welcome in the new millennium and the joint-largest gig ever, to a crowd of 3.5 million people in Moscow in 1997.
"After the five years I spent recording Electronica, I said 'wow, I really would like to be on stage and touring again'.
"I was excited, from a visual point of view, to create something different from what I've done before.
'Malevich meets Tron'
"Electronic music, being mostly instrumental, means you're not in a narrative situation with lyrics and a singer telling a story.
"I like the idea that when I'm on stage, I'm creating the soundtrack of a movie the audience can create in their imagination.
"The visuals are not a series of videos, but more a graphic link to the core of the tracks.
"I thought about [Russian abstract artist Kazimir] Malevich meeting [1982 sci-fi film] Tron - abstract graphics with digital means.
"That was the idea I had when I was preparing."
The UK's first glimpse of those visuals will be at Bluedot at the Jodrell Bank Observatory, under the gaze of the Lovell radio telescope.
The festival takes its name from the Pale Blue Dot photograph, an image of Earth taken by the Voyager 1 space probe as it left the solar system at the request of astronomer Carl Sagan.
'Retro-futuristic'
Jarre said the venue is ideal, as his music - from the saxophone solo an astronaut on the ill-fated Challenger shuttle was due to play in orbit for his 1986 album Rendez-Vous, to a live link to the Mir space station during a 1997 concert - has "always been linked with space".
"It's a great excitement to play Jodrell Bank - this gigantic radio telescope making us think about Sagan and his great movie Contact.
"This kind of radio telescope environment is technology, space and spirituality meeting together.
"It's an interesting area - special and retro-futuristic in a sense. I like this kind of vibe. That makes Jodrell Bank an unusual and exciting place to play."
After Bluedot, Jarre returns to the UK in October for a series of arena shows and then he will look, as always, to create more music.
While he has no plan to create another Electronica - "it may happen, you never know in life, but it was not intended like this" - he does think he will work with other acts again.
"What I really enjoyed was opening the door to collaboration. It has been a great journey to work with so many talented artists.
"That is something that gave me the desire to want to repeat it again."
Jean Michel Jarre plays Bluedot on 23 July. His UK tour begins in Cardiff on 4 October.
Electronica 1: The Time Machine and Electronica 2: The Heart of Noise are out now.
---
Follow us on Twitter @BBCNewsEnts, on Instagram, or email entertainment.news@bbc.co.uk.