The Simpsons to air first hour-long episode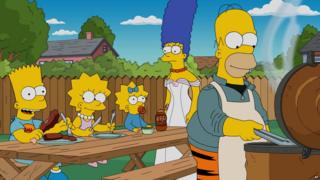 Long-running US sitcom The Simpsons is to broadcast its first hour-long episode next year.
Although there has been a Simpsons movie, this will be the first time a regular episode has run to an hour.
Executive producer Al Jean joked in a statement: "I just pray it won't be the last thing people see before a Trump inauguration."
Taraji P Henson, who plays Cookie on Fox's Empire, and actor and comedian Keegan-Michael Key will guest star.
Henson will voice the role of Praline, the former wife of a music mogul who has conned Mr Burns into bankruptcy.
Hillary vote
Key will play Jazzy James, who joins Praline, Homer and Bart to help Mr Burns get his revenge.
The episode, which will go out in January in the US, will be titled The Great Phatsby, a play on The Great Gatsby.
The Simpsons begins its 28th season on 25 September.
Earlier this month, Marge and Homer Simpson were seen agreeing to vote for Hillary Clinton in the forthcoming US election in a video clip.
Republican candidate Donald Trump is seen with a copy of a book called Great Speeches by A Hitler in the video.
When Homer signals that he might vote for Trump, Marge says: "If that's your vote, I question whether I can ever be with you again."
Homer replies: "And that's how I became a Democrat."
---
Follow us on Twitter @BBCNewsEnts, on Instagram, or email entertainment.news@bbc.co.uk.