Keira Knightley to play The Nutcracker's Sugar Plum Fairy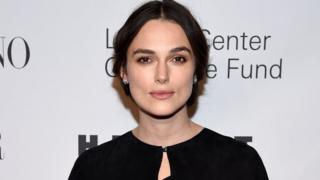 Keira Knightley is to star as the Sugar Plum Fairy in a new Disney live-action version of The Nutcracker.
The Pirates of the Caribbean and Atonement actress will join Morgan Freeman and Mackenzie Foy in the cast, according to reports from Hollywood.
The Sugar Plum Fairy did not feature in ETA Hoffmann's original Nutcracker story, written in 1816, but first appeared in Tchaikovsky's 1892 ballet.
Is is not known whether Knightley will be required to dance.
According to Variety and The Hollywood Reporter, the cast will also include Misty Copeland, who last year became American Ballet Theatre's first African-American female principal dancer.
Interstellar's Mackenzie Foy will play the girl who becomes enchanted by a nutcracker toy at Christmas and is transported into magical realms, including the Sugar Plum Fairy's Land of Sweets.
The new film will be directed by Lasse Hallstrom, best known for Chocolat, What's Eating Gilbert Grape and The Cider House Rules.