Carrie Fisher in her own words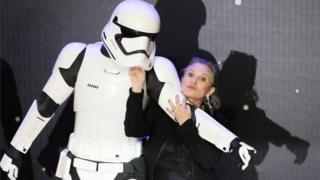 A selection of quotes from Carrie Fisher, the Star Wars actress, novelist and screenwriter, who has died aged 60.
On playing Princess Leia in Star Wars
"When I got the part of a princess in this goofy little science-fiction film, I thought: it'll be fun to do. I'm 19! Who doesn't want to have fun at 19?
"I'll go hang out with a bunch of robots for a few months and then return to my life and try to figure out what I want to do when I grow up.
"But then Star Wars, this goofy, little three-month hang-out with robots did something unexpected.
"It exploded across the firmament of pop culture, taking all of us along with it. It tricked me into becoming a star all on my own."
On her former addiction
"Drugs made me feel normal. They contained me."
On mental illness
"I'm fine, but I'm bipolar. I'm on seven medications, and I take medication three times a day.
"This constantly puts me in touch with the illness I have. I'm never quite allowed to be free of that for a day. It's like being a diabetic."
On what role she liked to play
"I enjoy taking jobs that make fun of me - or me as Princess Leia, or me as the writer, or whatever, as some idea.
"I have the ability, occasionally, of being able to step out and see who you think I could end up being. And I like to play with that."
On writing
"I always wrote. I wrote from when I was 12. That was therapeutic for me in those days. I wrote things to get them out of feeling them, and on to paper.
"So writing in a way saved me, kept me company. I did the traditional thing with falling in love with words, reading books and underlining lines I liked and words I didn't know. It was something I always did."
"Me being an actor was an accident, and not something I wanted to do, because I knew what happened eventually."
On Hollywood
"You can't find true affection in Hollywood because everyone does the fake affection so well."
On whether she and Harrison Ford ever discussed their affair
"He's not a big talker. You know, he wasn't Mr Chuckles."
On her famous parents
"I was born into big celebrity. It could only diminish."
On ageing
"I Googled myself recently and I came across this posting: 'Whatever happened to Carrie Fisher? She used to be so hot. Now she looks like Elton John.'
"Well this did hurt my feelings, partly because I knew what this person meant. Yes, it's all too true. I let myself go. And where did I go to? Where all fat, jowly, middle-aged women go to - refrigerators and restaurants."