Hull 2017: City of Culture to spoof itself with play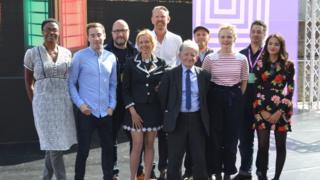 When Hull was named UK City of Culture for 2017, it prompted a tide of snide jokes about its cultural pedigree.
The jokes will start again in 2018 - only this time they will be in a satire about the City of Culture, commissioned by the organisers themselves.
This year's events will be followed in January by The Culture by James Graham, one of the UK's leading playwrights.
His play will poke fun at Hull 2017 in the style of BBC comedy Twenty Twelve, which spoofed the London Olympic Games.
Graham, who is known for his West End plays about politics and the press, insisted he was "laughing with" Hull City of Culture, not laughing at it.
"As soon as it was announced that [City of Culture 2017] was going to be Hull, everybody turned their nose up and sniffed and went, what the hell, why's it going there?" he told BBC News.
"I was immediately thrilled but I think we can embrace the fact that there probably were patronisingly low expectations about how this was going to go, and then embrace and enjoy how well it's gone."
Organisers say a million people have visited the city's museums and galleries so far this year, and 90% of the local population experienced at least one City of Culture event in the first three months.
Graham studied drama in Hull and dreamed up the new play - which has the full title The Culture: A Farce in Two Acts - with Hull Truck theatre artistic director Mark Babych.
"We settled on this idea of a satire of the City of Culture - following slightly, and probably too closely, the tradition of things like Twenty Twelve, where they use satire as a way to access something that feels quite far away, and to enjoy the self-deprecating nature of that British humour."
He took the suggestion to Hull 2017 organisers. "They were well up for it - I think in the spirit of both this city but also the ethos of the entire year, which has been to not take themselves too seriously," Graham said.
As part of his research, the writer has spent time in the Hull 2017 office and has interviewed people from the council leader to the local volunteers and residents. He says he has found sources of comedy "everywhere".
"When you're organising a big event like this [it is in] the structures, the hierarchy, the bureaucracy, [and] the challenges when it comes to mixing art with government and police and funding and local media."
Hull 2017 director Martin Green said the organisers have no veto over the script.
"There is something fundamentally ludicrous about the making of art," he said. "It is intense and it is difficult.
"We had numerous requests to make a behind-the-scenes documentary of this year, and we turned them all down. But the idea of an artist doing a piece that responds to the journey of a city in staging something like this is much more interesting, and is probably going to speak much more truth."
Graham's previous plays include This House, about the 1970s Labour government, which began at the National Theatre before moving to the West End; and Ink, about the birth of The Sun newspaper in the 1960s.
His next play, Labour of Love, traces the course of the Labour Party over the last 27 years and will star Martin Freeman and Sarah Lancashire when it opens in the West End later this month.
But Graham had to change large parts of the script after the general election result in June.
"I had to rewrite the play pretty much based on the results, which I didn't expect and most people didn't expect," he said. "Which is OK. That's fine. That's the joy of theatre and culture like this because it is live.
"It's not a movie which takes £5m to make and is then sealed in celluloid forever. Theatre should respond to events and this play is going to be very responsive, I hope, to events that lead up to the night of that show."
---
Follow us on Facebook, on Twitter @BBCNewsEnts, or on Instagram at bbcnewsents. If you have a story suggestion email entertainment.news@bbc.co.uk.