George Alagiah to be treated for bowel cancer for the second time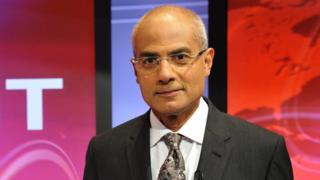 BBC newsreader George Alagiah is to undergo medical treatment for bowel cancer for the second time.
The news was confirmed by the 62-year-old's agent, who added: "He is in discussions with his medical team about treatment options and the way forward."
Alagiah was previously treated in April 2014, returning to the screen 18 months later.
In a statement, the BBC said: "Everyone sends George and his family their best wishes as he undergoes treatment."
Alagiah said: "My brilliant doctors are determined to get me back to a disease-free state and I know they have the skill to do just that.
"I learned last time around how important the support of family and friends is and I am blessed in that department. I genuinely feel positive as I prepare for this new challenge."
Alagiah found out he had stage four bowel cancer in 2014 after complaining of blood in his stools.
He had to undergo three operations to remove eight tumours in his liver as well as having chemotherapy.
Alagiah was later cleared of the disease, returning to presenting news programmes at the BBC in November 2015.
What is bowel cancer?
Bowel cancer (also known colorectal cancer because it occurs in the large intestine or colon and rectum) is common and treatable
Over 40,000 people are diagnosed with it every year in the UK
Spotting and managing it early gives the best chance of beating bowel cancer
More than nine in 10 people with early stage bowel cancer will survive the disease for five years or more after diagnosis
Symptoms can include a change in bowel habit (looser stools), tummy pain, bloating or discomfort and blood in your poo
People with these symptoms may not have bowel cancer but it is worth getting checked by a doctor
People who have survived bowel cancer have a higher risk of getting a separate new cancer
There is also a chance that cancer can come back in the bowel close to the original site (local recurrence) or in another part of the body (advanced or secondary cancer)
Source: Bowel Cancer UK, Cancer Research UK and NHS Choices.
Follow us on Facebook, on Twitter @BBCNewsEnts, or on Instagram at bbcnewsents. If you have a story suggestion email entertainment.news@bbc.co.uk.