Oscars 2018: Lady Bird is 'most overrated' nominated film by critics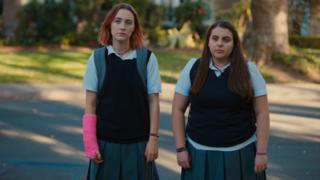 Lady Bird is the film that's been most overrated by critics out of all of this year's Oscar nominees, a BBC study has suggested.
The drama had stellar reviews from film critics, but audiences have been a bit less generous.
The difference between fan and critic score is larger than for any other 2018 Oscar-nominated feature film.
At the other end of the scale, The Greatest Showman was the movie that fans loved more than critics.
The study compared ratings from Metacritic, which gives each film a score based on critics' reviews, with those on IMDB, which allows filmgoers to post their own ratings.
For Lady Bird, which is nominated for five Oscars including best picture, Metacritic rates it 94 out of 100.
IMDB gave it 7.7 out of 10, based on 57,130 user ratings. Using the same scale as the critic score, 7.7 becomes 77 - a difference of 17 points.
No other film nominated for an Oscar this year has a bigger gap between critic and audience opinion. So who's right?
"Well, it doesn't matter what critics say about a film if it doesn't make money," says Emma Jones, film critic and editor of Electra Media.
It's "not very surprising" that Greta Gerwig's coming-of-age film is better loved by critics, she adds.
"She's always been a very independent film-maker, with an incredibly dry sense of humour, which isn't always to everyone's taste. But it is very much to critics' taste."
One other film was received as warmly by critics as Lady Bird - Christopher Nolan's World War Two blockbuster Dunkirk also has a Metascore of 94. But fans preferred it to Lady Bird overall, rating it 8.0 on IMDB.
But neither audience nor critic ratings are everything. Box office takings are also a measure of a film's popularity.
"Everything that a critic says or a fan says on these review sites is completely subjective," Jones says.
Meanwhile, The Greatest Showman, the musical starring Hugh Jackman as PT Barnum, is up for just one Oscar, for best original song.
It has a Metascore of 48, but fans have given it an 8.0 rating on IMDB - higher than Lady Bird.
However, Lady Bird director Greta Gerwig needn't get too worried - being "overrated" by critics isn't necessarily a bad thing for its chances of a best picture statuette on Sunday.
Overall, best picture winners usually appeal more to critics than audiences.
Looking at all Oscar nominees since 2000, best picture winners have an average rating gap of six points in favour of critics.
All but three best film winners in the last 18 years have been preferred by critics.
The three that got a higher rating from fans are Gladiator, A Beautiful Mind and Crash.
Follow us on Facebook, on Twitter @BBCNewsEnts, or on Instagram at bbcnewsents. If you have a story suggestion email entertainment.news@bbc.co.uk.