NHS IT costs to be cut by £700m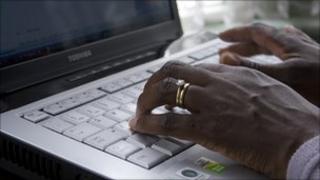 The government has announced £700m of savings in the national IT programme for the NHS in England, cutting the overall cost from £12.7bn to £11.4bn.
The cuts come on top of £600m of savings already announced by the previous government.
The programme was designed to create a national computer infrastructure for the health service.
It includes electronic booking of appointments, digital X-rays and electronic prescriptions.
Teething problems
In a statement the government says all its existing contracts for parts of the IT programme will be honoured.
The remaining parts - creating a fully computerised NHS in England - will be carried out locally.
That will allow individual hospitals to buy in computer systems as long as they are able to work with the existing national structure.
The IT programme for the NHS has at times been controversial because of its cost and delays.
Some hospital chief executives have complained about teething problems when systems were introduced, and the lack of local involvement in decision making.
The changes are in line with Conservative plans when they were in opposition.
The coalition government has had limited room to renegotiate contracts which were very tightly drawn up under Labour.
Connecting for Health, the NHS body which has been overseeing the introduction of the new IT systems, is not being axed as some thought it might.
'Dirty secrets'
Professor Wendy Currie, of the University of Warwick's business school who has monitored the progress of the NHS IT programme, said: "I'm not surprised the government is retaining Connecting for Health, it would be chaotic to make too many changes now.
"But it is very sensible to decentralise decision making, the previous centrist approach was a disaster."
Dr Chaand Nagpaul of the British Medical Association's GPs committee, said: "Giving NHS organisations more choice of IT systems makes sense, but we also need to be aware of the problems that could arise from a more localised approach.
"The provision and experience of IT for clinicians on the ground is likely to vary according to the level of support and resources available locally. It is important that successful national IT initiatives are not lost, and that innovation is not stifled."
Health minister Simon Burns said: "Improving IT is essential to delivering a patient-centred NHS. But the nationally imposed system is neither necessary nor appropriate to deliver this.
"We will allow hospitals to use and develop the IT they already have and add to their environment either by integrating systems purchased through the existing national contracts or elsewhere.
"Moving IT systems closer to the frontline will release £700m extra in savings. Every penny saved through productivity gains will be reinvested to improve patient care."