Surgeons create new ear for a nine-year-old Ethan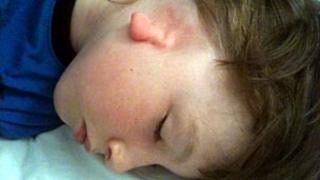 A nine-year-old boy born without his right ear has had pioneering surgery to give him a new one using cartilage from his ribs.
Ethan Giles-Bowman has a congenital condition called Goldenhar Syndrome which leaves babies with an underdeveloped face.
In Ethan's case, it meant his right ear was no more than a small flap of fleshy lobe which he self-consciously hid by growing his hair long.
But thanks to surgeons at the London Royal Free Hospital, Ethan now has a brand new ear that he is proud to show off with a short new haircut.
Life-like replica
Ethan is one of the first children in the UK to undergo the complex surgery.
The reconstruction process begins with creating a skin pocket at the site of the ear by pulling and stretching the tissue already there.
Next, three small pieces of rib cartilage are harvested which are then carved and wired together with fine stainless steel wire to make an intricately detailed framework that resembles an ear.
This framework is then carefully inserted in the skin pocket.
If this is a success, six months later the surgeons perform another operation to free the ear from the head so that it juts out a little in the usual way.
Ethan is due to undergo this last phase of surgery this spring. Although it will not restore the lost hearing in his right ear, it will complete his ear's look.
His mother Kathryn, from Sheffield, says although Ethan is apprehensive he is looking forward to having the operation.
"He's keen to get it finished. It's always been Ethan's choice to have the surgery. He's been the one saying he wants a new ear."
Kathryn said the surgery has already given Ethan a new lease of confidence.
"He was quite an outgoing child until about the age of four and then he became aware about his appearance and it affected his confidence.
"When he was seven he started to grow his hair to cover it up, but now he's got his new ear he wants to show it off and has had his hair cut shorter again.
"He wants people to see it. And he's looking forward to being able to wear sunglasses this summer. They won't slip off now."
Ethan's surgeon, Mr Greg O'Toole, said although the surgery was complex Ethan's case was thankfully straightforward.
"We expect him to come back to see us soon so we can release the ear from the side of his head. It should give him a good cosmetic result.
"It is amazing what a difference the surgery can make to children like Ethan. It can enormously change their life and give them a much needed boost of confidence.
"Without surgery they can be extremely self-conscious and become reclusive. I've seen adults who have not had the corrective surgery who suffer greatly as a result and are seriously psychologically disabled."
For more on this story, watch the One Show on BBC 1 at 19:00 on Friday 11 March.