Patients promised more choice by new regulator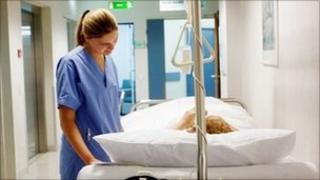 Patients have been promised more choice in where they are treated as a result of plans for more competition in healthcare.
Dr David Bennett, head of the economic regulator Monitor, has told the BBC he expects to see many more private companies and charities treating NHS patients. If NHS services cannot attract patients they will be allowed to close.
The British Medical Association is opposing the plans to increase competition in healthcare in England as part of the coalition government's health bill.
Under the government's plans an organisation called Monitor will regulate a healthcare market in which NHS , private sector companies and charities will compete to treat NHS patients.
NHS services allowed to fail
Monitor will have a legal duty to promote competition, while making sure no community loses access to essential health services. Its role will have some similarities to similar regulators for power and telecommunications.
In an interview with the BBC, Dr Bennett said he expected to see more private companies and charities venturing into healthcare.
He expects more competition to mean better value for taxpayers and pressure to innovate.
"Anyone who can provide high quality care, think of new ways of doing things, give benefit to patients should be able to participate. Over time I think you'd expect to see more players emerging - new types of public sector providers, voluntary sector providers, private sector providers."
Dr Bennett said that NHS hospitals providing essential services, such as those in rural areas, would be protected from the full force of competition. But hospitals in areas where there are alternatives would not be guaranteed public money if they fail to attract patients.
"If an NHS hospital is providing a service that people don't want to use, which GPs don't want to send them to, then those services may get into financial difficulty and ultimately close."
Level playing field
The government has said it wants to see a level playing field between the NHS and anyone else bidding to treat patients. A newly created private hospitals alliance called H5 will be lobbying Monitor to take into account what they argue are disadvantages.
Matt James, the chief executive of H5, said the plans build on changes introduced under Labour but which languished during Gordon Brown's time as prime minister. He described the coalition as having the energy and commitment to make sure that patients are offered a greater choice between NHS and private hospitals.
Private companies feel they have been at a disadvantage he said, "If you look at pensions - NHS providers have access to the NHS pension scheme but do not bear the full cost. That can make a very real difference if you have two hospitals competing to offer the same care to patients."
The private sector hopes of any immediate change in their favour may be disappointed. Monitor has told the BBC it could take some years to work out whether the NHS or the private sector had greater costs to take into account.
The creation of an economic regulator, and the plans to expose the NHS to greater competition for the NHS has been at the heart of the BMA's objections to large parts of the government's plans. BMA chairman Hamish Meldrum said the full implications had been poorly understood.
"They're going to be encouraging competition, almost like was done in the gas and electricity industries, even the railways in terms of breaking up the NHS into a lot of private providers."
The government has argued that its reforms are designed to secure the future of the NHS, not undermine it. It argues that the market in healthcare will be highly regulated to protect crucial services while allowing patients to fully exercise the choice they were promised under Labour.