Contraceptive implant Implanon: GPs warned over errors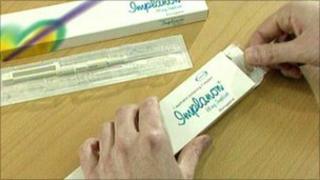 GPs are being told to brush up on their skills at fitting contraceptive implants as compensation claims soar.
The Medical Defence Union, which represents over half of UK GPs, says doctors must have suitable training before they fit women with the devices.
Reports suggest the NHS has received over 1,000 complaints and paid out £200,000 in compensation to women who have encountered problems.
These include hundreds of unwanted pregnancies.
Other errors of insertion of the small plastic rods by GPs have led to damage and scarring around the site of the implant under the skin of the arm, says the MDU.
Acquired skill
Many of the claims have been related to one popular contraceptive implant called Implanon which is designed to prevent pregnancy for three years by releasing a small but continuous flow of hormones into the bloodstream.
The MDU itself has paid out over £100,000 in compensation. The highest claim paid was £30,000 for an unwanted pregnancy.
Dr Rupert Lee said: "Although the cases notified to the MDU are few, given that more than one million contraceptive implant devices have been sold in the UK since 1999, in our experience some of the difficulties could be avoided through adequate training and good communication with patients. Patients should understand the risks and benefits of the device, for example.
"We are also aware that the most commonly used implant device has recently been updated to make its insertion simpler and to allow it to be more easily located should it become lost, which it is hoped will lead to fewer problems in the future."
The MDU advises GPs provide patients with full information about the risks and benefits of and alternatives to the implant, including the failure rate and risk of complications at insertion and removal.
This discussion should always be noted in the patient's records, it adds.
Dr Clare Gerada, chair of the Royal College of General Practitioners, said: "If the MDU's advice helps women get effective contraception, then that has to be a good thing. The vast majority of these implants are fitted by GPs, and the vast majority of them correctly.
"However, clearly there have been some problems. But every GP who intends to fit an implant must be competent and confident and be able to show that they have received the necessary training."