A&E demand warning over Easter and royal wedding breaks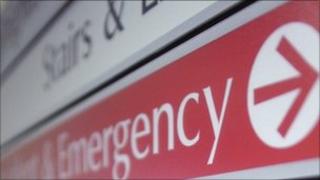 A&E doctors are warning casualty departments risk being swamped unless there is proper planning for the long Easter and royal wedding weekends.
The College of Emergency Medicine (CEM) points out there are only three working days between 21 April and 3 May.
Its head, John Heyworth, said A&E would be people's "default" option for NHS care, potentially leading to long waits and threatening patient safety.
But the Department of Health said the NHS had "robust" plans in place.
The run of bank holidays begins with Good Friday on 22 April, then Easter Monday.
Friday 29 April has been designated a bank holiday because of the royal wedding, then 2 May is the Early May Bank Holiday.
The only exception is for Scotland, which does not take a bank holiday for Easter Monday.
The CEM says adequate community care, from out-of-hours GPs, nurses, pharmacists and telephone services NHS Direct and NHS 24 must be maintained during the long weekends.
And it warns hospitals must ensure sufficient beds are available to cope with the likely increase in the number of admissions.
'Still have time'
Dr Heyworth, president of the CEM, said he was sure planning was already in place - but said he was not sure it was comprehensive, or that adequate public information was universally available.
"Our past experience is that once you go 24 to 48 hours into prolonged holiday periods, you see a steady increase in emergency department activity," he said.
"Investing time in planning how we will manage patient care during the Easter break and bank holidays around the royal wedding will ensure that patient safety is maintained as a priority during this period.
"Failure to plan may lead to the unacceptable position of emergency departments being the default for patients.
"This carries the danger of these departments being overwhelmed with long waits for patients to be seen on ambulance trolleys with significantly increased risk and threat to patient safety in such circumstances."
He said detailed planning and good communication with the public about what local services were available would give clinicians "the best chance of assuring patient safety".
Dr Heyworth added: "We still have time to ensure there are comprehensive plans in place, and people know where to go."
A spokesman for the Department of Health said: "Emergency services have lots of experience in dealing with changing demand during holiday periods.
"The NHS has robust plans in place and local NHS organisations are responsible for ensuring that the right urgent and emergency care services are available for patients."
The Society for Acute Medicine has also warned hospitals must make adequate plans for the holiday weekends.
Its president, Dr Philip Dyer, said: "It is essential that hospitals start to plan for this period. Consecutive four-day weekends will have a major impact on patient care."