Wales facing 'worst health cuts'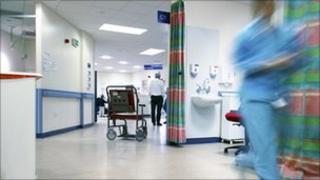 Wales is facing the worst NHS cuts in the UK, a review of spending suggests.
The analysis, by Professor John Appleby, of the King's Fund think tank, suggests the Welsh NHS budget will fall by nearly 11% in the next three years, once inflation was taken into account.
Northern Ireland faces a 2.2% cut over four years, he says, with the long-term picture in Scotland less clear.
England came out best, but even it is facing a cut of 0.9% over four years - despite promises to protect the budget.
Prof Appleby said this was because new inflation figures, which were higher than expected, had counteracted the small rises for the NHS in England that were announced last autumn.
The government in England has suggested it is prepared to pump more money into the health service if the inflation predictions come true, to ensure it does get a real rise in its budget.
For Scotland, the comparison was harder as the budget has only been set for this year, when there will be a 3.3% cut.
However, Prof Appleby also said the NHS was coming out better than other government departments.
The analysis, published by the British Medical Journal, also detailed the differences in spending per head of population.
In Scotland it stands at over £2,000 per head - about 15% higher than in England.
Prof Appleby said: "This shows that all the parts of the UK are facing a difficult task with the NHS, but Wales certainly has the hardest."
A Welsh government spokesman said ministers were fully committed to the health service, pointing out that 40% of its budget was being devoted to the NHS.
But he added: "We acknowledge that the settlement for health and social services will be challenging, but it is fair and manageable within the constraints of the reduction in funding we have received from the UK government."