NHS changes: GPs want 'more concessions'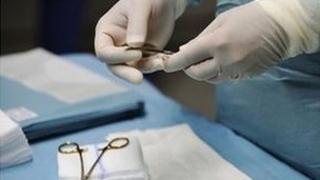 GPs have urged ministers to make more concessions in their re-think of the NHS plans for England.
Earlier this week David Cameron outlined changes to the coalition's original plans, to win over critics.
But doctors at the British Medical Association's annual GPs conference said the steps were still not enough to win their backing.
The union's leaders warned a further climbdown was needed over competition in the NHS in particular.
During the opening session of the two-day meeting in London a series of critical motions were passed warning patient care was under threat and services could become fragmented if the changes were introduced.
The conference is taking place just two days after the prime minister set out a number of concessions he was planning to make.
Under Health Secretary Andrew Lansley's original plans consortia of GPs would be given much more responsibility for spending the NHS budget in England, while greater competition with the private sector would be encouraged.
But on Tuesday Mr Cameron indicated his willingness to include hospital doctors and nurses on the consortia alongside GPs and also said the NHS regulator would have a duty to promote co-operation as well as competition.
But in his speech to open the union's conference, Dr Laurence Buckman, the chairman of the BMA's GPs committee, said: "He has still not taken away the duty to promote competition. I want politicians of every stripe to understand that we do not need competition to run the NHS. It creates duplication that is wasteful.
"This bill whether substantially amended or not is going to alter the face of the English NHS forever."
He said it was now important that ministers go further.
More details are expected to emerge next week of how the plans could change when the panel set up to carry out the recent listening exercise hands in its report to cabinet.
Dr Buckman said: "My plea is please do not let this exercise just be a respray job to try to persuade us to accept the unacceptable."
Concerns were also expressed about the potential conflict of interest doctors could face in making decisions about the budget, while doing their best for individual patients.
Fears have also been voiced about whether expanding the membership on consortia to other professionals could dilute decision-making.
Dr Simon Hodson, a GP from Shropshire, said: "This pause can only be seen as a sham."
And Dr Tim Bland, who works in Barking and Havering, London, said: "I believe the health bill is the greatest threat to the NHS since its inception."
But not everyone was so opposed. There was even a motion - voted down - that said the plans were a "great opportunity".
Dr Phil Garnett, from North Yorkshire, said GPs had a "responsibility" to work with the government as the NHS was facing some difficult decisions because of tightening budgets.
"We are in the best position to make these decisions because we talk to patients on a daily basis," he said.
Shadow health secretary John Healey said the criticisms once again showed that there was widespread opposition to the changes.
He added: "David Cameron is desperately trying to sell his 'I love the NHS' image but he still wants to force through his ideological reorganisation."
But a Department of Health spokesman said the plans had received support from other NHS groups.
She also defended the role of competition.
"It's not an end in itself, but it will bring in fresh thinking and different ways of doing things, which not only deliver better but also mean better value for money."